Students show award-winning film on life in Africa and UK
Nine sixth-form students from Kesteven and Grantham Girls' School in Grantham were today awarded for their film depicting life on a typical morning in a UK suburb versus a poor village in Africa.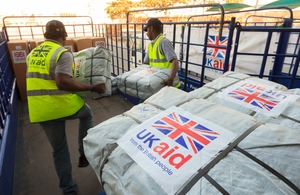 The short film, which examines how the students' day to day lives impact on some of the poorest children in the world, was premiered at the Department for International Development to special guests including Minister for International Development, Stephen O'Brien, as part of the Global Student Forum media challenge.
Stephen O'Brien said:
Congratulations to the students for making such an extraordinary film. It is important that young people understand the issues that shape the world they live in. The film is an excellent tool which will enable them to understand what life is like for young people in Africa, many of whom are affected by poverty.  We need to engage our young people on complex issues such as global poverty so that they can make their own contributions.
Student Hollie Anderson, aged 17, from winning Kesteven and Grantham Girls' School said:
Winning feels like such an achievement, although it isn't so much about what it meant to us but what it could mean to others. We are excited about the film being shown to our whole school, and also being used as a peer education tool in the UK.
GSF Founder Nick Pollard said:
We received 29 entries, representing a lot of careful and creative work from UK sixth formers.  However, Kesteven and Grantham Girls' School's idea was outstanding - scoring best for engagement, effectiveness, originality and achievability.
The Global Student Forum's (GSF) Media partnership challenge is supported by DFID to teach young people about development issues such as the reasons why 9 million children die every year from preventable diseases like diarrhoea and malaria.
The students' winning film will also be shown at this year's GSF which is taking place on the 29 June at the Emmanuel Centre in London. Over 500 students from the UK are expected to attend. This year's theme is looking at the issue of access to education and the 72 million children in the developing world who are not currently in school.
Published 3 June 2010