Students set to sharpen debating skills during mock EU Council
A chance to take the floor in a mock version of the EU Council of Ministers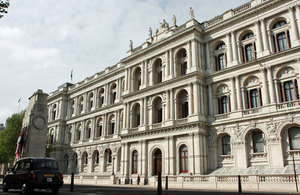 Students from across the UK are being given the chance to show off their negotiating skills during a mock EU debate which will take place in the historic Lancaster House in London on 16 November.
The inclusion of Roma communities within European countries and securing Europe's energy supply will be on the agenda as students take to the floor in a mock version of the EU Council of Ministers. Each school will represent either one of 27 EU Member States, or the European Commission or the Secretariat-General of the Council during the event.
Minister for Europe David Lidington, who will be opening the event, said: "The Mock Council is an excellent way to show young people how the big decisions are made at a European level and at the same time test their debating skills in front of their peers. I'm very much looking forward to meeting the students."
Students will be able to research their countries beforehand with the help of the relevant Embassy representatives in London, in order to develop their position on how best to respond to the problems faced by the Roma population, and how to adapt to the challenge of creating a single energy market. They will be assisted on the day by two officials from the UK Representation to the EU, Oliver Thomassen and Rebecca Ireland, who will be able to share their day-to-day experience of EU negotiations.
Highlights will include the chance for students to present 'their' country's standpoint, and make alliances with other countries during working groups, before casting their final votes in Council sessions, where they will sit behind the flag of their adopted country.
Students will also hear from Matthew Rycroft, EU Director at the Foreign and Commonwealth Office and Jonathan Scheele, Head of the European Commission Representation in the UK.
"The EU institutions need more British graduates to apply and we hope that events like the Mock Council will give this generation a taste of what working in the EU entails. Even if they aren't inspired to work at EU level, I'm sure they will come away with a better understanding of how the EU works. As chair of one of the sessions I'm looking forward to seeing how the students make their individual country's case and work together to reach an outcome," said Jonathan Scheele.
The mock EU Council debate is the final meeting in a series of Mock Councils being held around the UK and is being held during International Education Week. Schools have mostly been selected from participants of the EU's Comenius programme, managed in the UK by the British Council.
Published 16 November 2010