News story
Students get 'Ready, Steady' for work
Twelve students successfully completed the Ready Steady Work course held in early July.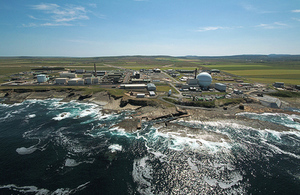 The four day course sponsored by DSRL and North Highland College was offered to all senior secondary schools in Wick, Thurso and Farr. The twelve participants had the motivation to apply and attend during "office" hours, giving up four days of their holidays. This year a mature student also attended, having completed their HNC studies at North Highland College.
The aim of the course is to prepare young people for the world of work by giving them the skills and knowledge they need to secure the job they want. The programme enables them to identify the skills they have, gives an insight into local industry, possible job opportunities in the county and information regarding what employers look for in an employee, it helps them prepare a professional CV and gives interview practice; all from an employer's perspective.
Day one covered a self-development session, including life and job aspirations, skills review, action planning and "Me Plc".
During day two the students were out and about visiting industry, hearing some inspirational stories. Companies visited were Scrabster Harbour Trust, Manpower/BT, JGC Engineering, Pentland Hotel and Driftwood.
Day three saw the difficult task of preparing a CV or having their CV health checked followed by interview preparation.
Day four was a practical day with each student attending a mock interview where they faced a panel of two followed by 1:1 feedback. The course concluded with Donald MacBeath, Principal of North Highland College informing them of the further education opportunities available on their door step. Donald then congratulated the group and presented each student with their certificate.
Marie Mackay, DSRL Community Relations Coordinator who organised the course, said:
Three years ago DSRL were asked to deliver a course preparing young people for work as part of the site's commitment to support the socio economic development of the area. Over the three years, 49 students have now attended this course with all commenting how beneficial it is. The students are fortunate to have the experience of DSRL's Training Specialist Lynda MacAskill to deliver the course. Many of the students are unaware of the skills they possess, Lynda is able to bring this out and produce quality CVs. The interview practice gives them a learning experience so when it comes to a real interview they know what is expected from them, and the same message was re-enforced by all the employers they met during day two. It is a pleasure to watch the students interact and grow over the four days
Published 22 July 2015