World news story
Students from The London School of Economics and Social Sciences visit El Salvador
Two students from The London School of Economics and Social Sciences are looking to work with Salvadorian universities in new projects.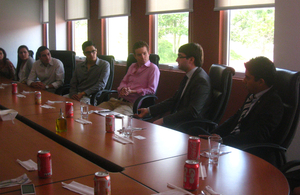 Samuel Peat and Ruby Weaver are two students from the well-known London School of Economics and Social Sciences (LSE). They are part of the Central America Student Association (CASA) in LSE, and they started a journey to Central America, from Panamá to Guatemala. We were pleased to be part of their visit to El Salvador, from the 10th to the 12th of April.
One of the reasons of the visit was to make contact with schools here in El Salvador, to create awareness about undergraduate programs in LSE, and other options that students have to study in that university. But the main objective was to start working together with Salvadorian universities in three key projects:
The first project CASA is working on is a Journal, with up to date information about Central America in many topics such as security, economy, politics, etc. This will be an opportunity for many students that want to share little researches they have done, or their opinion about certain subject. At the same time, there will be another journal with similar information, but this will be focused on publishing articles made by professors and other academics.
The second project is about professors' exchange. This project aims to bring LSE academics to the universities in the region, so they can provide short courses in specifics subjects. And the third project is about internships for LSE students in Central America in different projects; Right now, they have received more than 200 applications, buy only have vacancies for 30 students approx.
In El Salvador, they had a very tight schedule visiting 6 schools in San Salvador, and 2 universities: ESEN and UCA. These last two meetings came up with great ideas about the joint work in the three previous projects.
Published 2 May 2013