Press release
Student number controls for alternative providers delayed until 2014/15
Alternative higher education providers will remain outside student number controls in 2013/14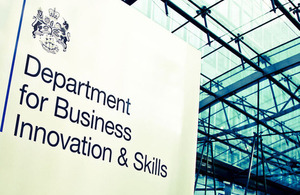 David Willetts has today announced that alternative higher education providers will remain outside student number controls in 2013/14. This will ensure a more diverse higher education sector and protect student choice.
Following a consultation on student numbers, Ministers have decided to delay the imposition of number controls on alternative providers until 2014/15. Additionally, small providers will remain exempt after this date.
From 2014/15, alternative providers will submit data to the Higher Education Statistics Agency, which will build up a much clearer picture of this part of the sector.
The government has previously announced there will be a new designation system for alternative providers that want their students to be eligible for support from the Student Loans Company.
Minister for Universities and Science David Willetts said:
Our goal is a higher education sector that responds to student demand and delivers an excellent academic experience.
We want the best possible match between students and institutions so that people can fulfil their aspirations. That is why we are keen to encourage a more diverse higher education sector.
Today's announcement will enable alternative higher education providers to continue with their current plans rather than blocking planned expansion.
The announcements were unveiled in the government's response to the Consultation on Applying Student Number Controls to Designated Alternative Providers of Higher Education, published today.
Small providers with fewer than 50 students eligible for student support will be exempt from student number controls, but other conditions such as on quality will still apply.
Currently there are significant differences in the way providers are regulated. Over time the government plans to level the playing field while ensuring better choice and value for money for students.
In the past six months, two higher education institutions not funded by the Higher Education Funding Council for England have been given permission to become universities: the College of Law / the University of Law and Regent's College / Regent's University London.
The existing designation system is now closed and no further applications will be accepted for 2012/13 academic year. Detailed guidance on the new system will be available shortly.
Notes to editors
1.The Higher Education White Paper can be read at: https://www.gov.uk/government/news/putting-students-at-the-heart-of-higher-education
2.Consultation on Applying Student Number Controls to Designated Alternative Providers of Higher Education can be found at https://www.gov.uk/government/consultations/applying-student-number-controls-to-alternative-providers-with-designated-courses
3.The government's economic policy objective is to achieve 'strong, sustainable and balanced growth that is more evenly shared across the country and between industries'. It set four ambitions in the 'Plan for Growth' (PDF 1.7MB), published at Budget 2011:
to create the most competitive tax system in the G20
to make the UK the best place in Europe to start, finance and grow a business
to encourage investment and exports as a route to a more balanced economy
to create a more educated workforce that is the most flexible in Europe.
Work is underway across government to achieve these ambitions, including progress on more than 250 measures as part of the Growth Review. Developing an Industrial Strategy gives new impetus to this work by providing businesses, investors and the public with more clarity about the long-term direction in which the government wants the economy to travel.
Published 27 March 2013