News story
Student finance independent assessors reappointed
The assessors look at cases involving English domiciled students who wish to appeal against decisions about how much financial support they …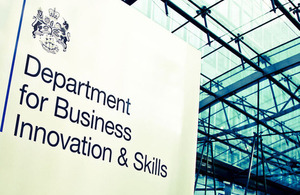 The assessors look at cases involving English domiciled students who wish to appeal against decisions about how much financial support they are entitled to and cases from any customer who wishes to complain about the service offered by the SLC. Cases must have first been through the SLC's internal processes.
Universities and Science Minister David Willetts said:
"The assessors provide students and graduates recourse to an independent person when they are unhappy with a student finance decision. They also help the Student Loans Company to improve the service they offer. The experience the current assessors have developed is very useful and I am grateful that they have agreed to serve a further term."
The four assessors are:
June Brown, a financial ombudsman and a former schools adjudicator

Deborah Gibson, a solicitor with experience of both public law and adjudication

Sarah Walk, a university teacher at undergraduate and postgraduate level

Christopher Hughes, a solicitor with a long career in public service.
**Notes to Editors **
---
The assessors were originally appointed in May 2009 and their current appointment period comes to an end in April 2012. These re-appointments are for a three year term from 1 May 2012 until 30 April 2015.

June Brown is a financial ombudsman and undertakes occasional work for the Parliamentary and Health Service Ombudsman investigating complaints from members of the public about the National Health Service. For ten years, June served as a schools adjudicator. Previous posts include Assistant Director for Planning at the Funding Agency for Schools, Regional Officer at the Further Education Funding Council and university lecturer.

Deborah Gibson was admitted as a solicitor in 1982 Deborah has many years litigation experience particularly in the public law field. She was first appointed in 1996 to a tribunal and sits both as a tribunal judge on the Mental Health Review Tribunal (MHRT) and as an adjudicator on the Traffic Penalty Tribunal. She was also appointed as a justice of the peace in 2006.

Sarah Walk is a barrister, and after practising for some years, currently teaches law at undergraduate and postgraduate level. She is also a qualified chartered accountant, with experience both in private practice and the City.

Christopher Hughes has been a solicitor for 30 years and has been a member of health and local authorities. From 2006-2009 he served on the board of the Legal Complaints Service ensuring that complaints against solicitors were properly dealt with. For seven years he was chair of the Hearing Aid Council protecting the interests of purchasers of hearing aids. He chairs bodies advising government on ethical and scientific issues and is a tribunal judge hearing cases relating to mental health and freedom of information. In 2009 he was awarded an OBE for public service.

All appointments are made on merit and political activity plays no part in the selection process. However, in accordance with the original Nolan recommendations, there is a requirement for appointees' political activity (if any declared) to be made public. None of these appointees have been involved in political activity in the last five years.

The SLC is an executive non-departmental public body, wholly in public ownership. It is responsible for undertaking certain delegated statutory functions in relation to loans and grants on behalf of BIS and the devolved administrations.

BIS's online newsroom contains the latest press notices, speeches, as well as video and images for download. It also features an up to date list of BIS press office contacts. See http://www.bis.gov.uk/newsroom for more information.
Notes to Editors
Contact Information
Name BIS Press Office Job Title
Division Department for Business, Innovation & Skills Phone
Fax
Mobile
Email bispress.releases@bis.gsi.gov.uk
Name Michael Gibbs Job Title
Division Department for Business, Innovation and Skills Phone 020 7215 1635 Fax
Mobile
Published 24 April 2012