News story
Student finance independent assessors appointed
Six new independent assessors have been appointed to investigate appeals and complaints made to the Student Loans Company (SLC).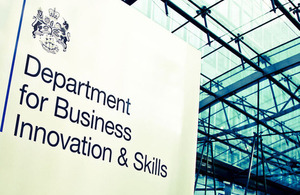 Two of the current independent assessors have also been reappointed to serve a further 3 years, bringing the total number of assessors to 8.
The independent assessors provide students and graduates recourse to an independent person when they are unhappy with a student finance decision. They also help the Student Loans Company (SLC) to improve the service they offer. Cases must have first been through the SLC's internal processes.
The 8 assessors are:
Deborah Gibson - a solicitor with experience of both public law and adjudication
June Brown - a financial ombudsman and a former schools adjudicator
Jonathan Willis - an experienced solicitor, Legal Aid Agency independent adjudicator and judge
Peter Wrench - extensive experience of adjudication and complaint handling with a range of organisations following a career in the Home Office
Emma Davy - a solicitor and deputy district judge
Joanna Grice - a tribunal judge, immigration and asylum and social entitlement jurisdictions
Michaela Jones - an experienced solicitor and a judge of the Mental Health Review Tribunal for Wales
Naseem Malik - a judge on the Asylum and Immigration Chamber and an ombudsman for the Financial Ombudsman Service
The appointments are for a 3 year term until 30 April 2018. All appointments are made on merit and political activity plays no part in the selection process. However, in accordance with the original Nolan recommendations, there is a requirement for appointees' political activity (if any declared) to be made public. None of these appointees have been involved in political activity in the last 5 years.
The SLC is an executive non-departmental public body, wholly in public ownership. It is responsible for undertaking certain delegated statutory functions in relation to loans and grants on behalf of the Department for Business, Innovation and Skills and the devolved administrations.
Published 1 June 2015