News story
Student Charter Group gets down to work
The 11-member group, chaired by Oxford Brookes Vice Chancellor Janet Beer and NUS President Aaron Porter, had their first meeting last Friday…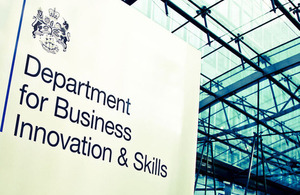 The 11-member group, chaired by Oxford Brookes Vice Chancellor Janet Beer and NUS President Aaron Porter, had their first meeting last Friday. The group will report to the government in December with recommendations for the sector on what individual agreements might cover, and guidance which institutions and student unions can use in the preparation, design and use of student charters and other forms of agreement.
Universities and Science Minister David Willetts said:
"Improving the quality of university teaching is an important policy for the government, written into the Coalition Agreement.
"Students rightly have high expectations of what their university should provide, and want to know how to put things right when those expectations aren't quite met."
"Within the higher education sector there is already a range of experience with using student charters, contracts and other forms of agreement. The student charter group will look at current good practice and offer advice on lessons which universities across the sector might consider applying more widely. I am grateful to Janet Beer and Aaron Porter for agreeing to lead this work and look forward to receiving their report at the end of the year."
Co-Chair of the Student Charter Working Group, Oxford Brookes University Vice Chancellor Professor Janet Beer said:
"A really good student experience is dependent upon a partnership between the University and its students. The Student Charter group will build on the good work already done in the sector to ensure that the expectations and responsibilities of both partners are not only fulfilled but exceeded."
Co-Chair and NUS President Aaron Porter said:
"I am very pleased to be working with Janet Beer and others to examine the use of student charters and develop guidance for good practice in making them integral to higher education delivery. It isn't surprising that students are increasingly focussed on getting value for money from their institutions and reasonable expectations must be recognised and delivered on. Education is not a one way retailer and customer relationship and creating student charters can be useful way for students and institutions to navigate this complex relationship."
Notes to Editors:
The Student Charter Working Group comprises Janet Beer (Co-Chair, Vice Chancellor, Oxford Brookes University), Aaron Porter (Co-Chair, NUS), Chris Brink (Vice Chancellor, Newcastle University), Liam Challenger (Student Union President, Leeds Metropolitan University), Mark Hunt (Deputy Vice Chancellor, University for the Creative Arts), Amanda Chetwynd (Pro-Vice-Chancellor, Lancaster University), Graeme Wise (NUS), Douglas Blackstock (QAA), Heather Fry (HEFCE), Paul Clark (UUK) and Anna Vignoles (Professor of Economics of Education, The Institute of Education).

The terms of reference for the Student Charter Working Group are available at www.bis.gov.uk/student-charter

BIS' online newsroom contains the latest press notices, speeches, as well as video and images for download. It also features an up to date list of BIS press office contacts. See [http://www.bis.gov.uk/newsroom](http://www.bis.gov.uk/newsroom) for more information.
Notes to Editors
Contact Information
Name BIS Press Office Job Title
Division COI Phone
Fax
Mobile
Email NDS.BIS@coi.gsi.gov.uk
Name Michael Gibbs Job Title
Division Department for Business, Innovation and Skills Phone 020 7215 1635 Fax
Mobile
Published 22 July 2010