News story
Stronger business partnership for the UK and Singapore
Business Secretary Vince Cable and Singapore Minister for Trade and Industry Mr Lim Hng Kiang signed a partnership agreement, which will provide…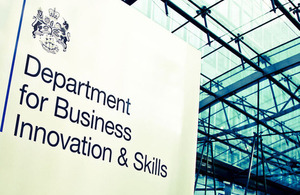 Business Secretary Vince Cable and Singapore Minister for Trade and Industry Mr Lim Hng Kiang signed a partnership agreement, which will provide a framework to help maximise business opportunities, increase co-operation on R&D and share best practice.
Dr Cable was also present at the signing of a MoU between the National University of Singapore and the London School of Hygiene and Tropical Medicine. This will create a regional hub for public health research, training and innovation.
The Business Secretary said:
"Singapore is an important market for the UK. It is one of the UK's largest export destinations outside Europe and two thirds of Singapore's exports to the EU come to the UK.
"As two of the best places in the world for ease of doing business and a shared belief that trade should be a central part of growing a sustainable economy, we are natural partners.
"I hope that my visit will help spur further collaboration for the benefit of both our economies."
Minister Lim said:
"This partnership marks a new milestone in our excellent relations with the UK and we see it as a start to further broaden and deepen our bilateral collaboration. Singapore believes the agreement will also help strengthen our position as the gateway to Asia for UK companies, just as the UK is the gateway to Europe for our companies."
The Business Secretary is in Singapore as part of a trade visit to South East Asia which will also see him visiting Indonesia and Vietnam over the next few days. It is a region enjoying impressive growth rates and a burgeoning middle class and therefore provides significant opportunities for British companies to share their expertise.
Singapore is the UK's largest trading partner in South East Asia. Over 700 British companies are based in Singapore with UK investment totalling £23 billion. World-leading companies across a range of sectors are established there including banking, legal, education, infrastructure, advanced engineering, bio-science and retail. Exports from the UK to Singapore increased by 15 per cent to £3.29 billion in 2010; exports from Singapore to the UK increased by 18 per cent to £3.99 billion in 2010.
**
**
Notes to editors:
---
Full text of the UK-Singapore Economic Business Partnership:
UK & Singapore Economic & Business Partnership Agreement
---
UK Business Secretary Vince Cable and the Singapore Minister for Trade & Industry Lim Hng Kiang agree that the UK and Singapore have much to gain from establishing a more frequent and strategic dialogue on a range of economic and business issues.
Building on our shared interests and existing strong relationships, this dialogue will focus on cooperation that will create new, high value strategic partnerships and generate new economic opportunities in both countries.
In recognition of the great potential for productive cooperation, this partnership will focus on the following areas:
---
Business Cooperation
Foster linkages in priority sectors as identified by UK and Singaporean businesses. This will include urban solutions such as transport, infrastructure, and energy; clean technology such as environment and water; the application of information and communication technology such as smart and green ecoCities, eHealth and tele-medicine, intelligent transport system; education; and creative services, such as digital media.
Leverage the advantages of our complementary roles as gateways to Asia and** Europe** for businesses.
Build awareness and explore opportunities for third country collaboration.
---
R&D Cooperation
Explore further cooperation in key research sectors including the maritime R&D, interactive digital media, electronics, pharmaceuticals and medical biotechnology sectors.
Share experience and exchange information on translational research and commercialisation of research through industry collaboration.
Energy R&D Cooperation: Explore joint collaboration in green building design, R&D, and test-bedding of new energy technologies.
Share experience in the promotion of innovation **and **business sector R&D at the policy level.**
---
Policy Exchanges
Share experience in economic policy, competition policy, intellectual property and foresight forward planning work.
The views of business will be central to this dialogue. To promote bilateral business flows, business dialogues and exchanges between both countries will be encouraged, especially in the priority areas identified above.
A UK-Singapore Economic and Business Partnership will be established to ensure ongoing structured engagement at a senior level. This will take the form of regular meetings of senior officials from both sides who will consider the strategic direction of the Partnership, discuss areas of cooperation and review progress. Such meetings will be hosted by the UK and Singapore alternately and led at the Permanent Secretary level.
This agreement was signed on 31 October 2011 in Singapore.
FOR THE GOVERNMENT OF THE UNITED KINGDOM
Vince Cable
Secretary of State for Business, Innovation and Skills
FOR THE GOVERNMENT OF THE REPUBLIC OF SINGAPORE
Lim Hng Kiang
Minister for Trade and Industry
---
BIS's online newsroom contains the latest press notices, speeches, as well as video and images for download. It also features an up to date list of BIS press office contacts. See http://www.bis.gov.uk/newsroom for more information.
Notes to Editors
Contact Information
Name BIS Press Office Job Title
Division COI Phone
Fax
Mobile
Email NDS.BIS@coi.gsi.gov.uk
Name Lucy Bell Job Title
Division Department for Business, Innovation and Skills Phone 020 7215 5361 Fax
Mobile
Email Lucy.Bell@bis.gsi.gov.uk
Published 31 October 2011