World news story
Strong United Kingdom presence at Milipol Qatar 2016
Strategic partnership, innovation and technology co-operation are the key themes for the strong UK presence at Milipol Qatar 2016.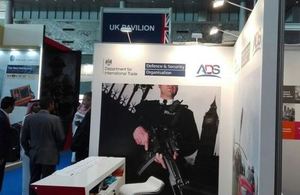 A significant UK presence at Milipol 2016 demonstrates the ongoing commitment of UK companies to supporting the Qatari security and cyber sector. These companies will be in the UK pavilion, one of the six international pavilions exhibiting. The key themes of the visit are strategic partnership, innovation and technology co-operation as UK security companies visit Qatar's premier security event to showcase their world leading capabilities in the law enforcement and security sectors, including cyber security solutions.
UK companies are looking to further benefit from opportunities in Qatar via industrial partnerships and long term joint ventures. The UK is keen to share its experience in managing large sporting events, following the success of the recent Rugby World Cup, Olympic Games and Commonwealth Games. The UK also has extensive experience in cyber security and looks to work closely with Qatar in this crucial and growing sector.
The UK government team is led by Richard Freeman, Senior Police Adviser and Security Adviser in the Department of International Trade's Defence and Security Organisation.
Richard Freeman said:
Qatar is an important strategic partner for the UK and we are committed to further deepening and strengthening our security relationships, including in the cyber sector where the UK has gained extensive experience and knowledge over the last 5 years. We welcome every opportunity to discuss shared challenges faced by our police forces and security agencies. I want UK companies to look for industrial partnerships in Qatar and the region so that we can continue to share knowledge, understanding and technology that can strengthen our ties even more. The United Kingdom has a strong track record in organising major sporting events and we will continue to work with Qatar as they prepare for a successful 2022 World Cup and develop national security capabilities to support the wider 2030 Vision.
The UK looks forward to a successful Milipol 2016.
Below is a list of exhibitors:
BlackBag, CNL Software, Cobalt. Futurm Consultancy and Training, L3 Communications, L3TRL Technology, PGI, PyserSGI Limited, TDPi, Restrata, ThinkingSafe Ltd, Thinking Space Systems, Toro Risk Solutions.
Published 1 November 2016