World news story
Strong Opportunities for UK Retailers in Sri Lanka
2014 saw a remarkable growth of 36% in Sri Lanka's exports to the UK, confirming the UK as Sri Lanka's top export destination in Europe.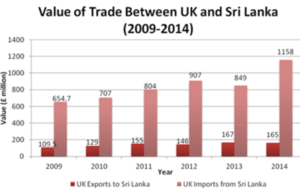 British High Commissioner John Rankin welcomed this growth and noted the continuing strong opportunities for British companies in the Sri Lankan market.
He said "These latest figures demonstrate the strong demand from British buyers for high quality goods manufactured in Sri Lanka, notably in the apparel and clothing accessories sector. M&S, Next, George for Asda, and Tesco all operate sourcing offices in this country. Overall, there are over 100 UK companies successfully operating in Sri Lanka.
Trade and investment is a two-way relationship and I look forward to further growing British exports to this country. People in Sri Lanka share a strong affinity with high quality UK brands and there is continuing demand for top class British products, from food and drink to highly engineered equipment. "
UK retail brands have identified Sri Lanka as a strong supply partner, due to the country's labour standards and the success of Sri Lankan apparel sector's 'Garments without guilt' campaign which focused on ethically-made clothing i.e. free of child labour, sweatshop conditions and forced labour while ensuring sustainable manufacturing practices.
Published 6 March 2015