Strong economy in Occupied Territories 'key to promoting peace, stability and prosperity.'
Foreign Office Minister for the Middle East and North Africa Alistair Burt welcomes new economic plans for West Bank and Gaza and urges full implementation.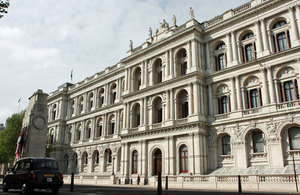 Speaking today Alistair Burt said:
"The British Government welcomes Friday's announcement by Prime Minister Benyamin Netanyahu and Quartet Envoy Tony Blair. As Tony Blair said, the practical implementation of these measures will be key. We continue to encourage the Government of Israel to enable Gaza exports this year to attain the levels of 2007. We strongly echo Tony Blair's call for an end to all attacks on Israel from Gaza. We will continue to work with the Quartet Representative, the Government of Israel and the Palestinian Authority to re-open Gaza for business. The British Government believes that a strong economy in the Occupied Territories is key to promoting peace, stability and prosperity.
"More broadly, the continued occupation is hampering peace, economic prosperity and stability in the region. This is not in the interests of either the Israelis or the Palestinians. The window for peace in the Middle East is closing and, as the Quartet statement yesterday made clear, it is imperative the parties return to talks urgently to achieve a two state solution."
Published 6 February 2011