World news story
Strengthening UK – Peru cooperation
The British Embassy in Peru launches new initiatives to promote sustainable development and the defence of human rights.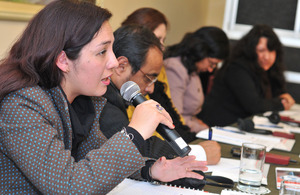 New initiatives launched by the British Embassy, in partnership with a range of Peruvian and British organisations, will focus on supporting Peru's economic reforms aimed at promoting transparency and sustainable and equitable growth. This work supports UK priorities to promote jobs and growth in the UK, a rules-based international economic system and sustainable global economic growth.
UK experts will support Peru's Ministry of Health as it develops public-private partnerships (PPP) in the health sector to deliver improvements to public health services, supporting existing training and capacity building programs.
Two other projects will promote transparency and anti-corruption. Peruvian NGO "Ciudadanos al Dia" will work with businesses and business associations to develop and adopt a voluntary Code of Conduct. The International Governance & Risk Institute (GovRisk) will support Peru's National Audit Office with capacity building and the development of guidelines to prevent fraud and corruption in public procurement in Peru at the national, regional and municipal level.
Building Research Establishment (BRE) UK will work with Peru's Ministry of Housing to develop a Code for Sustainable Homes. The Code is expected to act as a catalyst for the rapid development of innovative, affordable and sustainable homes, and to influence the development of low carbon industry and green public policies for a sustainable built environment in Peru. The Carbon Trust will support SENATI (one of Peru's leading vocational training centres) to develop skills in the ISO 50001 energy management standard, thereby promoting measures to reduce the impact of climate change.
Promoting human rights
Other projects supported by the British Embassy will also promote human rights. Peruvian NGO Grupo Vigencia, in partnership with the local government of Carmen de la Legua district in Callao, will create a network of male campaigners against sexual and domestic violence.
The think tank "Instituto de Estudios Peruanos" (IEP) will work with teachers to develop a set of tools to address the issue of the internal armed conflict in Peru in an educational setting.
The British Embassy is also supporting Peru´s National Coordinator of Human Rights Organisations to promote the rights of Lesbian, Gay, Bisexual and Trans (LGBT) people. Their event will bring together key stakeholders to raise awareness of the issues LGBT people face, and to develop policies to prevent discrimination on the grounds of sexual orientation.
For more information on projects in Peru you can write to BEProjectsPeru@fco.gov.uk
Published 24 June 2013