World news story
Strengthening trade and investment with Uruguay
The Lord Mayor of the City of London visits Montevideo.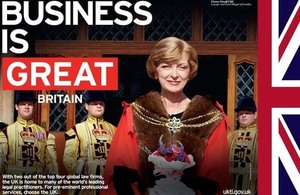 The Right Honourable the Lord Mayor of the City of London, Fiona Woolf, will visit Uruguay 4-6 May, to strengthen bilateral trade and investment relations with the UK. The Lord Mayor is the head of the City of London Corporation and a dedicated Ambassador, who travels around the world supporting and promoting the City as the world leader in international finance and business services,
During her visit, the Lord Mayor will hold meetings with government authorities including Vice President Danilo Astori, Minister of Economy and Finance Mario Bergara, President of the Central Bank, Alvaro Graña, and the Mayor of Montevideo, Ana Olivera.
Prior to her arrival, the Lord Mayor said:, "The City is a world leader home to a unique cluster of services and has a proven track record of working with fast growing markets such as Uruguay. Closer partnership with the UK can help to sustain Uruguay's economic success story."
Recent research by PwC found that service exports from the UK to Uruguay have increased four times from 2004 to 2012 to $70m, while exports of goods have also increased in the same proportion, representing $80m in 2013.
"This is a positive development but there is considerable scope for further cooperation, particularly in infrastructure and education," she added
"This expertise of delivering bespoke solutions could help support the Uruguayan government's ambitious investment plans in ports, roads, energy and other areas. The UK is home to some of the highest rated global institutions and a strong international reputation for providing education, training and qualifications. Closer partnership with these institutions can help Uruguay develop the specialist expertise needed to succeed in an increasingly competitive world where a skilled workforce is essential," concluded Mrs Woolf.
During her stay, the Lord Mayor will award the Mansion House Scholarship for the first time in Uruguay to a young professional who will pursue Finance studies in the UK.
Published 2 May 2014