Strengthening the UK's relationship with Somaliland
Foreign Secretary William Hague met President Silanyo of Somaliland on 22 February, the eve of the London Conference on Somalia.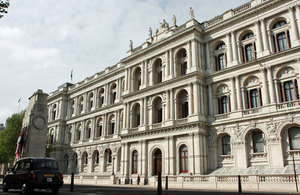 The Foreign Secretary and President Silanyo reaffirmed the close ties between the UK and Somaliland. They agreed that Somaliland was making progress in further embedding democracy and discussed issues of mutual interest, including cooperation on trade and to counter piracy. Over the next three years, the UK will provide up to £105 million in development support to Somaliland to promote prosperity, tackle poverty and consolidate progress on stability and democracy.
Speaking after their meeting, the Foreign Secretary said:
"I am delighted to see President Silanyo in London for the Conference on Somalia. Somaliland has valuable lessons to share from its own experience of building stability and democracy. I welcome President Silanyo's participation at the Conference and am grateful for Somaliland's continued co-operation in the fight against piracy and terrorism."
Published 22 February 2012