Press release
Street Spice Festival outbreak investigation concludes
Health experts from Public Health England (PHE) and Newcastle City Council have concluded their investigation into the outbreak of illness associated with the Street Spice Festival, held in Newcastle between 28 February and 2 March 2013.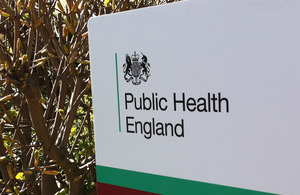 The report, published today by the outbreak control team, concludes that the use of uncooked curry leaves, contaminated with several different bacteria, was the cause of the outbreak which affected over 400 people.
Of the 413 people who reported symptoms of diarrhoea and vomiting after attending the event, 29 were confirmed as having various strains of salmonella, of which 25 had a strain of salmonella that had not previously been identified in human or food samples in the United Kingdom.
Findings from further laboratory analysis suggested that in addition to salmonella, other organisms may have caused illness including E.coli and Shigella. Some of the affected people were found to have more than one of these infections at the same time.
Dr Kirsty Foster, chair of the outbreak control team and consultant in health protection with PHE said:
This was one of the largest outbreaks of gastro-intestinal illness associated with herbs or spices in the country. In addition, it was the first time one of the strains of Salmonella was detected in the UK.

However, herbs and spices are known to be potential sources of salmonella and other organisms, and have been reported in scientific literature as the source of infection in a number of outbreaks across the country. But it is unclear whether there is widespread understanding among food handlers and the public about the potential for infection when using these products raw.

That is why we have reported our findings to the Food Standards Agency, recommending that advice is developed for the food industry and the public about the use of raw curry leaves.

While this is being developed our advice to the public is to cook curry leaves thoroughly if they are to be used in recipes and to be aware of the risk of infection if using them raw.
Stephen Savage, Newcastle City Council's Director of Regulation and Public Protection said:
Our Environmental Health Officers have worked very closely with experts in health protection since the outbreak of this illness. We have carried out extensive investigations and tests and have identified the source of this outbreak as being imported contaminated curry leaves used raw in a chutney.

Having carefully considered the facts we have decided against formal action in this case. This decision, based on our enforcement policy, takes into account the lack of clear, official, advice about the use of curry leaves and the overall good standards of food hygiene at the festival.

We have recommended to the Food Standards Agency that they should develop information to be circulated nationally about the preparation of curry leaves and other herbs. We will ensure that this advice is given to the local restaurant trade. We will carry out further work with the Food Standards Agency and Public Health England to examine more closely the extent of contamination in curry leaves and other herbs imported from abroad.

We are also recommending to the Food Standards Agency that awareness is raised with importers, exporters and port health authorities about the labelling, and in particular the instructions for use of curry leaves and other herbs.
Dr Foster concluded,
I would like to take this opportunity to thank the hundreds of affected people who helped us with this complex investigation by completing a range of epidemiological surveys. I would also like to thank the festival organisers who co-operated fully with the investigation at all times, under very difficult circumstances.
ENDS
Notes for editors
The Street Spice outbreak investigation report is available at: www.newcastle.gov.uk
Symptoms of salmonella include diarrhoea, stomach cramps and sometimes vomiting and fever. Most people recover without treatment, but occasionally the illness can become more serious and require hospital admission.
The newly identified strain of salmonella is known as Salmonella Agona PT 40.
The types of E.coli and Shigella identified were those commonly associated with travellers' diarrhoea.
North East centre PHE press office
Published 19 June 2013