News story
Street Children shine at Dar es Salaam Football Tournament
British High Commissioner joins Dar street children at football tournament to celebrate London 2012 Olympics Legacy project.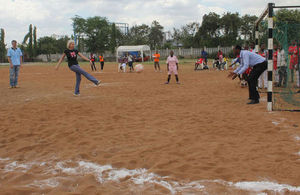 British High Commissioner Dianna Melrose and Professor Elisante Gabriel, Deputy Permanent Secretary at the Ministry of Information, Youth and Sports, spent an enjoyable morning watching a British High Commission- British Council sponsored children's football tournament. The event was the culmination of a project launched in April this year to improve the life chances of street children in Dar es Salaam and Mwanza by integrating them with other children through the medium of sport. The project engages all of the main shelters across Dar es Salaam, alongside schools and communities in the surrounding areas, using the power of sports, arts and education to improve learning outcomes for children and increase integration with the community.
International Inspiration Programme
The project grew out of previous and on-going work with International Inspiration, a London 2012 Olympic and Paralympics legacy programme that aims to 'reach young people all around the world and connect them to the inspirational power of the games so they are inspired to choose sport'.
Other partners in the project have included Rotary Club of Bahari – Dar es Salaam, Right to Play Tanzania, the Tanzania Street Children's (TSC) Sports Academy, Arsenal FC, Bolton Wanderers Community Trust, Queens Park Rangers FC, Momentum Arts and the LIFT Festival (London International Festival of Theatre). These partners, with their local and internationally renowned expertise delivered an exciting project activity with the potential for expansion in the future.
Phase I of the Project was sponsored by the Rotary Club of Bahari and entailed Right to Play that trained facilitators and sports equipment distribution in April to around 26 institutions encompassing 9 street children shelters and neighbouring schools in and around Dar es Salaam. Building on this, TSC Sports Academy delivered Ultimate Street Star Challenge community open days and creative arts workshops in various locations around Dar es Salaam. Two senior coaches from Bolton Wanderers Community Trust visited Tanzania and delivered the specialised workshops in health, social skills and football from their Active Families training programme. This training and engagement, combined with the vital sports equipment provided by Rotary gave the shelters and schools the resources they needed to engage children in activities that focus on health, gender equality and life skills.
Phase II of the Project was sponsored by the British High Commission in Tanzania and featured Olympic and Paralympic Values Training of children and caretakers/ teachers from shelters and nearby schools by International Young Leaders.
Published 4 November 2013