Press release
Stormont agreement reaches Westminster
Villiers welcomes new bill introduced to Parliament today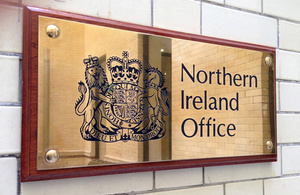 An Independent Reporting Commission to promote progress towards ending paramilitary activity in Northern Ireland is a one of a number of measures in a new Bill introduced to Parliament today.
The Northern Ireland (Stormont Agreement and Implementation Plan) Bill delivers some of the key aspects of the 17 November 2015 Fresh Start and Stormont House agreements, which ended a financial and political impasse that threatened the survival of the devolved institutions.
In addition to establishing the Independent Reporting Commission, the proposed legislation:
Modifies the pledge of office by Northern Ireland Ministers to include fresh obligations to work together on their shared objective of ridding society of all forms of paramilitary activity and groups, and introduces a parallel undertaking for members of the Assembly;
Extends the period allowed for the appointment of Northern Ireland Ministers once the Assembly is elected from seven to 14 days; and
Makes provision to promote fiscal transparency and support the Executive to deliver a stable and sustainable budget.
Welcoming the legislation, Secretary of State for Northern Ireland, the Rt Hon Theresa Villiers MP said:
Today's Bill is another step towards a brighter, more secure future for Northern Ireland. It implements key parts of November's Fresh Start agreement and the 2014 Stormont House agreement.

A new Independent Reporting Commission charged with holding the UK Government, Executive and Irish Government to account is important. Alongside the declaration that paramilitary activity will never be tolerated and a Joint Agency Task Force established last year, it provides a basis of a unified effort to rid Northern Ireland of the malign influence of these groups for good.

As the Bill progresses through Parliament, the United Kingdom Government will continue to work alongside Northern Ireland's political leaders and the wider community to help build a society where politics works, the economy grows and society is stronger and more united. It is an ambitious programme but also vital if Northern Ireland is to prosper.
Since the Fresh Start Agreement, new welfare reform legislation has been put in place, a Joint Agency Task Force on organised crime established and a panel appointed to make recommendations on disbanding paramilitary groups. Work also continues with victims' representatives and others on finding a way forward to address the legacy of Northern Ireland's past.
In addition, substantial financial support from the UK Government unlocked by the political deal is already benefiting Northern Ireland, including:
£40 million refunded welfare deductions pumped back into Northern Ireland spending
Up to £200 million capital borrowing unlocked to facilitate a public sector voluntary exit scheme which is projected to save the Executive approximately £160 million each and every year
Up to £100 million of additional capital borrowing to support additional important investment in Northern Ireland
More detail on progress can be found here NI Stormont Agreement and Implementation Plan Bill. Delegated Powers document (MS Word Document, 40.5KB) Northern Ireland (Stormont agreement and implementation plan) bill - ECHR Memo (PDF, 238KB, 6 pages) Government Response to the DPRRC 24th Report (PDF, 294KB, 4 pages) .
Published 10 February 2016
Last updated 16 February 2016
+ show all updates
Now containing Northern Ireland (Stormont Agreement and implementation plan) bill - ECHR memo
First published.