Press release
Stockton Foster Carer Maria Catterick wins Big Society Award
Foster carer Maria Catterick, who's cared for 26 children over 9 years in Stockton, is the latest Prime Minister's Big Society Award winner.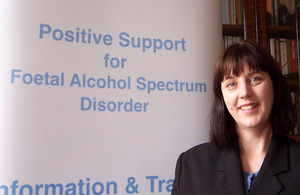 Maria Catterick has been recognised for her dedicated and selfless support to young people, and for the individual attention and love that she shows to each child in her care.
Gaining first-hand insight into the impacts of Foetal Alcohol Spectrum Disorder (FASD) through fostering, Maria has worked to raise awareness of the condition by creating FASD Network, a support group made up of a cooperative of families affected by this disability all are advocating for awareness and change.
With about 70% of children with FASD going through the foster care and adoption systems, Maria, ambassador for the cause, has helped educate groups of teachers, social workers and other professionals about the needs of children and adults with FASD, focusing her time supporting families and caregivers as well as speaking at conferences around the country and abroad.
Commenting on the award Prime Minister David Cameron said:
Maria is an amazing woman. She has shown tremendous generosity of spirit and dedication to all of those children that she has looked after.

She has also had a wider impact on the community, raising awareness of Foetal Alcohol Spectrum Disorder, a serious condition which unfortunately is becoming increasingly common.

Maria embodies the spirit of the big society in showing how one person's altruism can have a much wider positive impact on the whole Stockton area.
Maria Catterick said:
I am truly humbled by this award. I see lots of people in my town doing extraordinary things, often in a voluntary capacity. Joined together we can meet most needs from housing, food, family support etc.

The essence of the Big Society is that whatever little we have or however ordinary we are, we can make a difference. We don't have to have loads of power and money but what we do doesn't have to be massive. All we have to do is just share a little of what we have to respond to a need that we encounter in our everyday life and before we know it change happens. I do what I can because I can - because we all can.
In addition to fostering, Maria is also a trustee of 'ROC SOLID' a housing support programme' a member of 'Project ONE', which gives out small grants to people with ideas about how to improve the lives of vulnerable people in Stockton, and is also a member of the 'Love Stockton' collective that encourages people to feel proud of their community.
Notes for editors
Maria Catterick is currently completing a MA in Managing Community Practice (applied Social Sciences) at Durham University. Her dissertation will be presented as a poster at the FASD prevention conference in Edmonton, Alberta, Canada in September 2013.
For media enquiries please contact Laura Piscaer - Big Society Network.
To contact Maria Catterick please email her at: FASDnetwork@mail.com
Or visit the website www.fasdnetwork.org.
On the Big Society Awards
The Big Society Awards were set up by the Prime Minister in November 2010. The aim is to acknowledge individuals and organisations across the UK that demonstrate the Big Society in their work or activities. In so doing, the aim is also to galvanise others to follow.
The award focuses upon three specific areas:
Outstanding Contribution to Community
This includes:
people, projects and organisations that enable communities to drive change themselves
projects and organisations that allow the community to identify solutions
people, projects and organisations that inspire others to contribute to their community
Improving Lives and Society through Innovation, Collaboration and New Partnerships
This includes:
people and organisations taking new approaches to public services
successful collaboration and partnerships between public, private and voluntary sector - working together to benefit communities
Engaging in Social Action
This includes:
people, projects and organisations taking action in their community
working together for social change (e.g. through creating groups, campaigns, movements)
generosity of time, money, skills and other resources – in support of social action
Launching the awards, the Prime Minister said:
There are some amazing projects and remarkable voluntary work going on in towns and cities up and down the country, by all kinds of organisations from large enterprises to tiny grassroots schemes and inspirational individuals.

These awards are a chance to pay tribute to those making a valuable contribution to their community, the real champions of the Big Society, but perhaps more importantly, I hope they will motivate many others to take action, get involved and drive change in their area.
Nominations come in from the general public after which there follows a process of scoring and short-listing by civil servants and a further short-listing by a panel of ministers and independent external experts. This panel makes recommendations to the Prime Minister who makes the final decisions about who to make the award to. Twelve winners are decided each quarter meeting and then announced once a week throughout the year.
74 winners have been announced to date, including:
Bob Hatcher, who supports local authorities by providing volunteer 4x4 drivers to reach the vulnerable at times of need
Gary Fenton, who invented a website to help people set up their own Neighbourhood Watch groups; it has now been rolled out across the country
Biddick Hall Community Focus Group, which is based in the North East and has transformed the community through local action on health, crime, employment and activities for young people
For a full list of winners visit www.bigsocietyawards.org.
Published 10 May 2013