Press release
Welsh Secretary praises north Wales's tourism industry during trip to Llangollen Railway Trust
Stephen Crabb: "Wales is a fantastic country to visit and I want to take every opportunity to promote it."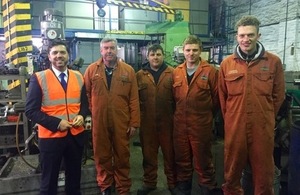 Stephen Crabb visited Llangollen Railway Trust - one of the most popular tourist attractions in North Wales - to see how it is helping grow the Welsh economy.
The visit, which comes at the beginning of Wales Tourism Week, provided an opportunity to highlight the contribution made to creating jobs and boosting the Welsh economy.
Across Wales, there are over 10,000 businesses linked to tourism, employing more than 100,000 people and contributing £2.4 billion to the Welsh economy. British residents made 84 million day visits to destinations in Wales between January and November 2014 – spending £2.5 billion in Wales and helping our tourism industry to thrive.
Overseas tourism figures for the summer of 2014 also showed that 380,000 overnight visits were made to Wales by international visitors - spending £148 million. These visits help promote Wales around the world as a brilliant holiday destination.
Secretary of State for Wales Stephen Crabb said:
Wales is a fantastic country to visit and I want to take every opportunity to promote it to potential tourists. Llangollen Railway Trust is a glowing example of what Wales has to offer and already attracts thousands of visitors every year.

By capitalising on our world-renowned heritage sites and our fantastic food and drink, I am confident we will continue to attract people from all over the world to Wales. This will help us grow the economy, create jobs and provide more security for people in Wales.
Llangollen Railway Trust General Manager Kevin Gooding:
We are delighted to host the Ministerial visit to Llangollen Railway to show some of the Railway's activities and recent achievements.
During the visit, Stephen Crabb saw the Loco-Shed to see a number of locomotives including the famous Unknown Warrior. He also saw various engineering projects including new-builds and restoration projects.
The Llangollen Railway celebrated the official opening of the station at Dwyrain Corwen East with a special train on St David's Day for the conveyance of some 270 invited guests from Llangollen to Corwen.
Published 17 March 2015