Stay Safe in Pamplona's Fiestas
The San Fermín Fiesta – including the Running of the Bulls – will take place in Pamplona, Spain from 6–14 July 2013.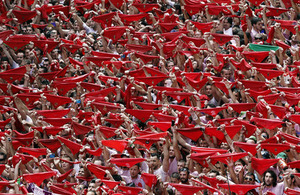 This week-long Festival consists of many cultural and entertainment activities but is best known in the UK for the Running of the Bulls. Participating in the Running of the Bulls is dangerous. Each year, some participants are seriously injured and there have been numerous deaths associated with the event.
Before deciding to participate, you should weigh up the risks of doing so, and understand the consequences if you are injured. Your travel insurance may not cover you if you participate in high-risk activities, such as running with the bulls. You should check the details of your insurance policy before deciding whether to participate.
Local authorities make arrangements for the large number of visitors. These include:
Providing locker facilities at the Pamplona Town Hall. Due to the high incidence of petty crime and pick-pocketing, including the theft of passports, police recommend that travellers carry a copy of their passport for identification and keep the original in a safe place.

Establishing a lost and found office at the Pamplona Municipal Police Station in the centre of the city. If personal belongings are lost, travellers should notify the lost and found office. They will assist you in reporting the incident.
Further information on the festivities, accommodation and other services is available (in English) on the Pamplona City Council's official San Fermín web site
You can also find some useful locations on this map on this map
Before you set off, do these five simple things:
Get travel insurance and check what it covers
Apply for a European Health Insurance Card
Leave a photocopy of your passport with your family in the UK
Fill in the last page of your passport with your emergency contacts
When you arrive, make sure you:
Keep your valuables safe or use one of the lockers available at the Town Hall
If camping, don't leave anything valuable in your tent
Carry a photocopy of your passport with you and leave the original locked away
Have one of your cash cards and some cash separate from the rest of your valuables just in case
Be extra careful in large crowds, keep your cash in a zipped pocked or bag
Follow the instructions of the Spanish Police whenever necessary
After it's over, be extra vigilant:
Bear in mind you will be tired, which makes you more vulnerable
Be vigilant in the surrounding area of the festival. Pick-pocketing is common in this part of the city during San Fermín
Public transport can be busy so give yourself plenty of time to get to the airport or to get your train
If something goes wrong:
Your local Consulate is available to offer help and support if you have been hospitalised, arrested or are a victim of crime. You can call us on 0034 913 342 194 if you need help, advice or an Emergency Passport.
Published 3 July 2013