Press release
Stay alert to the risk of flooding this weekend
The Environment Agency is urging communities in southern England and parts of the north to stay alert to the risk of further flooding over the weekend.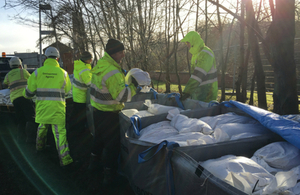 The Met Office forecast is for more heavy rain for parts of southern England on Friday into Saturday morning and for more rain in the north later on Sunday. This brings an ongoing risk of flooding in parts of these areas, which could affect roads and disrupt travel.
Over the weekend the River Ouse and the River Severn are expected to remain high. At York the Foss Barrier is fully operational. Demountable flood barriers remain in place at Shrewsbury on the River Severn. Additional temporary flood defences and pumps are ready to be deployed where needed.
Environment Agency flood warnings are updated every 15 minutes. People are urged to check the flood risk to their local area and to roads if they are planning to travel.
Neil Davies, National Flood Duty Manager at the Environment Agency, said: "More wet weather this weekend means that communities in parts of southern England and the north should stay alert to the potential for further flooding.
"Teams from the Environment Agency will be out over the weekend continuing their work to check and repair flood defences as well as clearing watercourses and offering help and advice to communities still recovering from the impacts of flooding over Christmas.
"Strong winds combined with high tides could lead to large waves and spray especially for the Yorkshire coast and parts of southern and western coasts. We advise anyone near coastal paths and promenades to take extra care and to avoid the temptation to go 'wave watching'.
"People should check their flood risk and keep up to date with the latest situation or follow @EnvAgency and #floodaware on Twitter for the latest flood updates. Remember not to drive through flood water: just 30cm of flowing water is enough to move your car."
Published 29 January 2016