World news story
Statement on the Panel on the Protection of the Family, Human Rights Council, Geneva
Joint Statement delivered by the UK on 15 September 2014 affirming the great importance of family-related issues and recognising the valuable contribution that families make to our societies.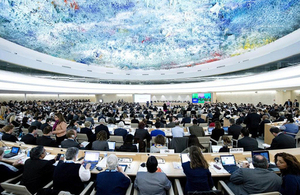 The UK, Australia, Austria, Canada, Colombia, France, Germany, Spain, Sweden, Switzerland, the United States and Uruguay attach great importance to family-related issues and recognise the valuable contribution that families make to our societies. We believe that providing effective support to families is crucial if we are to secure a better quality of life for all.
We also firmly believe that family relationships, and the protection that families can offer, have considerable impact on the individual rights of family members, including children's well-being, development and prospects.
We would also like to re-iterate that various forms of the family exist. This has been recognised in resolutions of this body and the General Assembly, as well as legislation in many countries. These include single-parent families due to choice, divorce, separation, disease, death or conflict, child-headed households, extended and intergenerational families, same-gender as well as heterosexual families and recomposed families. All are valid and it is one of the aims of our human rights collaboration in this Council to promote tolerance and non-discrimination in this regard.
Family diversity is particularly important as different forms of the family require different types of support from Governments to secure and enhance the well-being of individuals within families. Our ultimate goal must be to ensure that the rights of all family members are respected and upheld.
We therefore believe it is the duty of this Council to uphold the principles of diversity, non-discrimination and tolerance for all forms of families and their members.
We would like to ask the panel how it believes we can best support families in light of this ever evolving context?
Published 15 September 2014