Government response
Statement on Tata Steel's strategy for its European businesses
Business Secretary responds to Tata announcing developments regarding the strategy for its European businesses.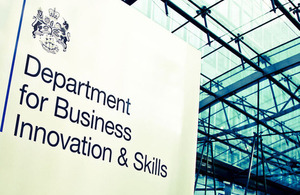 Statement on Tata Steel's strategy for its European businesses
Business Secretary Sajid Javid said:
The past few months have been a very uncertain time for Tata UK steel workers, particularly at Port Talbot. So Tata's news today (8 July 2016) that they intend to explore strategic alternatives including a possible joint-venture with thyssenkrupp AG is encouraging, as is the fact that they have decided to separately sell their specialty steel and pipe businesses in Rotherham, Stocksbridge and Hartlepool. It is imperative that momentum is maintained to provide much needed security for workers and the wider supply chain.

I met with Tata's Global Chairman Cyrus Mistry today and underlined that the government remains committed to doing all it can and that our package of commercial support still stands. We will continue to work closely with Tata to find a long-term solution for sustainable blast furnace steel manufacturing in Port Talbot.
Published 8 July 2016