Statement on higher education and research following the EU referendum
Statement from Jo Johnson, Minister of State for Universities and Science, on higher education and research following the EU referendum.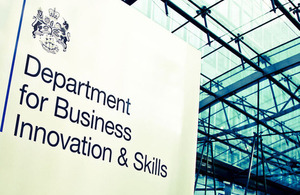 The UK has some of the best universities and researchers in the world, and international students, academics and researchers play a significant part in that success.
As the Prime Minister set out last week, the government will continue taking forward the important legislation that was set before Parliament in the Queen's Speech, including the Higher Education and Research Bill.
We understand that there will be questions about how the referendum result affects higher education and research. Many of these questions will need to be considered as part of wider discussion about the UK's future relationship with the EU, but where we can provide further information, we will do so. The UK remains a member of the EU, and we continue to meet our obligations and receive relevant funding.
Universities and Science Minister Jo Johnson:
EU and international students make an important contribution to our world-class universities, and our European neighbours are among some of our closest research partners.

There are obviously big discussions to be had with our European partners, and I look forward to working with the sector to ensure its voice is fully represented and that it continues to go from strength to strength.
EU Nationals and student finance in England
EU students who are eligible under current rules to receive loans and grants from the Student Loans Company will continue to do so for courses they are currently enrolled on or about to start this coming year. The Master's Loans launched today are also still available to eligible EU students. EU students will continue to receive funding for the duration of their courses. Information on the eligibility criteria, including residency rules, is available. The SLC have provided more information at 'EU Nationals and Student Finance in England'
Further future funding arrangements with the EU will be determined as part of the UK's discussions on its membership and we will provide what updates and clarity we can.
EU student/staff status
As the Prime Minister has stated, there will be no immediate changes following the EU Referendum, including in the circumstances of British citizens living in the EU, and European citizens living here. This includes those studying or working at UK universities.
For students, visitors, businesses and entrepreneurs who are already in the UK or who wish to come here, there will be no immediate change to our visa policies.
Erasmus+
The referendum result does not affect students studying in the EU, beneficiaries of Erasmus+ or those considering applying in 2017. The UK's future access to the Erasmus+ programme will be determined as a part of wider discussions with the EU.
More broadly, existing UK students studying in the EU, and those looking to start in the next academic year, will continue to be subject to current arrangements.
Horizon 2020 research funding
The referendum result has no immediate effect on those applying to or participating in Horizon 2020. UK researchers and businesses can continue to apply to the programme in the usual way. The future of UK access to European research and innovation funding will be a matter for future discussions. Government is determined to ensure that the UK continues to play a leading role in European and international research and innovation.
Published 28 June 2016