Press release
Statement on first parliamentary elections in Lebanon since 2009
Lebanon held its first parliamentary elections since 2009 and Minister for the Middle East, Alistair Burt, issued the following statement, welcoming the event.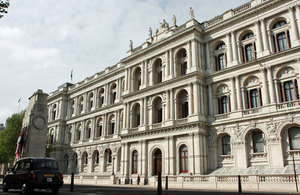 Minister Burt said:
I welcome Lebanon's first parliamentary elections since 2009, which took place on 6 May. I was pleased to see that the elections took place peacefully and in an orderly way, and I hope that the recommendations of the electoral observer missions will be acted on.

The United Kingdom remains steadfast in its commitment to Lebanon's stability, security and prosperity. I hope that Lebanon's political leaders, following the announcement of the election results, move swiftly to form a new government to address the crucial issues facing the country. I welcome calls from political leaders to carry out celebrations in a calm and peaceful manner.

The next government will have the important task of protecting Lebanon's stability and security by: robustly implementing the policy of disassociation from regional conflict; abiding by the provisions of all relevant UN Security Council Resolutions, in particular 1559 and 1701; and ensuring that the state's legitimate security institutions hold the monopoly on the use of force.

We also look forward to the next government making rapid progress on implementing the commitments to economic reform made at the CEDRE Conference (Conférence économique pour le développement, par les réformes et avec les entreprises) in Paris on 6 April, and working with the international community on the approach to the many refugees from Syria hosted by Lebanon, as set out in the Lebanon Partnership Paper jointly agreed at the Brussels Conference on 24 and 25 April.

The United Kingdom will remain a strong partner of Lebanon as it addresses the crucial challenges ahead.
Further information
Published 8 May 2018