Statement on Court of Appeal judgment
Mark Hoban, Minister for Employment, responding to today's Court of Appeal judgment on Government employment schemes.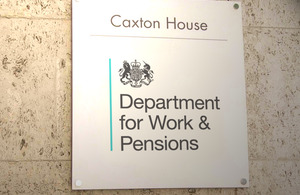 Responding to today's Court of Appeal judgment on Government employment schemes, Minister for Employment, Mark Hoban, said:
The court has backed our right to require people to take part in programmes which will help get them into work. It's ridiculous to say this is forced labour. This ruling ensures we can continue with these important schemes.

We are however disappointed and surprised at the court's decision on our regulations. There needed to be flexibility so we could give people the right support to meet their needs and get them into a job. We do not agree with the court's judgment and are seeking permission to appeal, but new regulations will be tabled to avoid any uncertainty.

Ultimately the judgment confirms that it is right that we expect people to take getting into work seriously if they want to claim benefits.
Notes to Editors:
Two claimants who had been placed on two different Government schemes were granted permission to seek a judicial review to challenge the validity of the Jobseeker's Allowance (Employment, Skills and Enterprise Scheme) (ESE) Regulations 2011 which underpin these schemes. The Community Action Programme trialled the provision of mandatory community work for the very long-term unemployed, while the sector-based work academies (sbwa) scheme includes work experience and training.
The Court of Appeal has backed an earlier High Court judgment that requiring participation in the schemes does not breach human rights, and that a formal policy statement is not required before Regulations can be enforced.
While the judgment supports the principle and policy of our employment schemes, and acknowledges the care and resources we have dedicated to implementing these schemes, the Court of Appeal ruled that the regulations did not describe the schemes to which they apply.
The Court of Appeal has therefore quashed the ESE Regulations. We are appealing that verdict, but in the meantime we are tabling new regulations to ensure that we can continue requiring people to take part in these schemes which give them the skills and experience they need to find work.
Media enquiries: 0203 267 5085
Out of hours: 07659 108 883
Published 12 February 2013