Statement on cost of the Department for Education's new brand
A statement from the Department for Education on rebranding costs.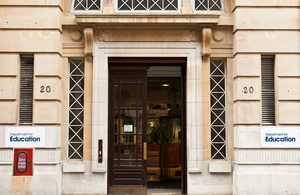 Regarding the cost of the Department for education's new brand a spokesperson said:
The cost of developing the Department's new brand was £5,250 excluding VAT. In addition, it cost £2,250 to update our website and £1,404 for signage with our new brand. To date we have spent £91 on stationery specific to the change of brand. We take individual decisions about whether to rebrand existing literature, services and so on, in order to minimise costs and waste.
DfE enquiries
Central newsdesk - for journalists 020 7783 8300
General enquiries - for members of the public 0370 000 2288
Published 6 July 2010