World news story
Statement: NATO Secretary General on Salisbury attack
On 27 March, NATO Secretary General, Mr. Jens Stoltenberg, announced further decisions following the use of a nerve agent in Salisbury.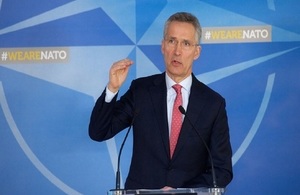 NATO Secretary General has announced he has withdrawn the accreditation of seven staff at the Russian Mission to NATO and will also deny the pending accreditation request for three others.
In addition, the North Atlantic Council has reduced the maximum size of the Russian Mission to NATO by ten people, bringing the maximum size down from thirty to twenty.
In a statement, he said:
This sends a clear message to Russia that there are costs and consequences for its unacceptable and dangerous pattern of behaviour.
The full statement can be read here
NATO Secretary General on decisions following nerve agent Salisbury, 27 MAR. 2018
Published 28 March 2018