News story
Statement from Vince Cable on retirement of Sir Kevin Smith from GKN plc
"I would like to take the opportunity to recognise the significant contribution that Sir Kevin Smith has made to UK industry, on the occasion…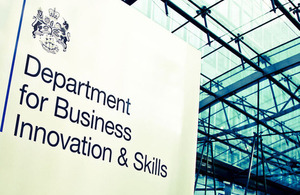 "I would like to take the opportunity to recognise the significant contribution that Sir Kevin Smith has made to UK industry, on the occasion of his retirement as CEO of GKN plc.
"Sir Kevin has led GKN for the best part of a decade, delivering growth, increased productivity and diversification even in the face of one of the most challenging business periods in the company's 250 year history.
"He has played an active role in championing the UK manufacturing sector globally, as a UK Business Ambassador, as Chairman of the Government's Manufacturing Forum, and as a member of the UKTI Asia Task force and the Aerospace Business Leaders Group.
"And in addition, he has supported the work of Government in previous roles as an adviser to the Board of GCHQ, and as a member of the Ministerial Sub-Committee on Smart Procurement.
"I would like to thank Sir Kevin for the considerable contribution that he has made to UK industry, and wish him every success for the future."
Notes to editors:
---
BIS's online newsroom contains the latest press notices, speeches, as well as video and images for download. It also features an up to date list of BIS press office contacts. See http://www.bis.gov.uk/newsroom for more information.
Notes to Editors
Contact Information
Name BIS Press Office Job Title
Division COI Phone
Fax
Mobile
Email NDS.BIS@coi.gsi.gov.uk
Name Nick Evans Job Title
Division Department for Business, Innovation and Skills Phone 020 7215 3496 Fax
Mobile
Published 20 December 2011