Government response
Statement from the Secretary of State on measures to revitalise the Northern Ireland economy
Responding to suggestions that the UK Government is threatening to withhold economic aid from Northern Ireland, the Rt Hon Theresa Villiers MP said: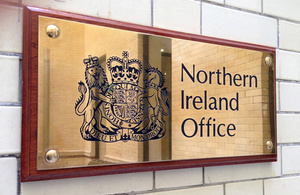 The PM was clear when he met the FM and dFM last month that the UK Government wants to work closely with the Executive in developing a substantial package of new measures to help revitalise the Northern Ireland economy. But he also made the point that to secure a prosperous future for Northern Ireland, we also urgently need to tackle long term social problems and build a cohesive and stable society.
This deal is not just about spending additional public money in the traditional sense, and the Northern Ireland block grant and EU structural funding are not affected. The package we are working on with the Executive is in addition to the support Northern Ireland already receives from the UK Government. It is based on the city deals being implemented in England, though ours is more wide-ranging and ambitious. It involves looking at what more can be done to boost the private sector, while at the same time moving society towards a genuinely shared future for everyone in Northern Ireland.
We need to work on bold and radical measures within our respective areas of competence. So the UK Government is examining things like enterprise zones, infrastructure projects and improving access to finance. The Executive meanwhile needs to use their extensive devolved responsibilities to develop economic and social measures -including working on building a shared future. Put simply, it's a two way street - the greater the Executive's ambition, the more the UK Government will be able to help. It is about partnership and working together.
The decision to host the G8 Summit in Fermanagh demonstrates the Government's determination to help Northern Ireland. We want to work closely with the Executive to agree this package over the coming weeks and we are optimistic about the outcome.
Published 11 April 2013