News story
Statement from the Department for Business on the Association of British Insurers report on Board Effectiveness and Principles of Executive Remuneration
"Last week the Department for Business launched a discussion paper on ways to ensure executive pay is genuinely matched to performance and long…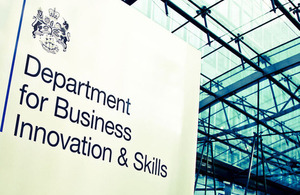 "Last week the Department for Business launched a discussion paper on ways to ensure executive pay is genuinely matched to performance and long term success. The key principles in the ABI's guidance match what we have found in our conversations with shareholders, investors and business leaders so far - that excellent performance should be rewarded, but that there is a strong need to end "reward for failure". So we welcome the ABI's revised guidance and report on Board Effectiveness for their contribution to greater clarity and transparency for companies."
On 19 September, the Business Secretary Vince Cable launched a consultation on financial reporting requirements, which includes proposals to give investors greater clarity on how top businesses are run and how executive pay is matched to performance. At the same time, BIS launched a discussion paper on executive pay, focusing on how to curb pay asymmetry - where escalating pay at the top does not correlate with company performance.
The consultation on narrative reporting closes on 25 November. The discussion paper on executive pay asks for responses by the same date.
In June 2011, Vince Cable announced that Professor John Kay would conduct a review of UK equity markets and the role they play in supporting corporate performance. Professor Kay will publish an interim report next spring before making recommendations to the Secretary of State in a final report in the summer of 2012.
Notes to editors:
Notes to Editors
Contact Information
Name BIS Press Office Job Title
Division COI Phone
Fax
Mobile
Email NDS.BIS@coi.gsi.gov.uk
Name Una Flynn Job Title
Division Department for Business, Innovation and Skills Phone 020 7215 5256 Fax
Mobile
Email Una.Flynn@bis.gsi.gov.uk
Published 28 September 2011