Statement from Environment Secretary Owen Paterson on contaminated meat – 8 February
"I completely understand why people are so concerned about this issue. It's totally unacceptable that people have been sold something that is…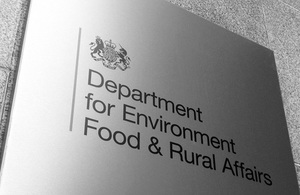 "I completely understand why people are so concerned about this issue. It's totally unacceptable that people have been sold something that is not what they think it is.
"Investigations are going on across Europe, and the evidence so far suggests that it's either criminal activity or gross negligence.
"I have called an urgent meeting for tomorrow with the FSA and senior representatives of retailers and meat suppliers. I want to be absolutely certain that they're confident about where their meat comes from and that it is what they say it is.
"As soon as there was any suggestion of horse meat in the food chain, the Food Standards Agency and Defra told food suppliers to conduct urgent checks. As a result, Findus yesterday notified the FSA that significant quantities of horse meat had been found in its frozen beef lasagnes.
"In addition, the FSA has ordered food businesses to test all their processed beef products and is conducting its own survey of beef products, including those supplied to schools and hospitals.
"The FSA has said that unless there is advice to avoid a specific product, there is no reason for people to change their shopping habits. There is no reason to believe that processed beef products currently on sale are unsafe.
"We believe that the two particular cases of the frozen burgers from Tesco and the lasagne from Findus are linked to suppliers in Ireland and France respectively. We and the FSA are working closely with the authorities in these countries, as well as with Europol, to get to the root of the problem. The French authorities are saying they are viewing_ _the issue as a case of fraud rather than food safety. Anyone who has these products in their freezer should return them to retailers as a precaution.
"Last Monday David Heath met with the FSA and food businesses and it was agreed that businesses will publish the results of their own testing. If any changes to testing and enforcement in the UK are required as a result, we will not hesitate to do so.
"In addition to the food industry's own tests, about 92,000 food safety and food authenticity tests are carried out by the FSA and Trading Standards every year. Clearly there are some people who believe they can get away with selling cheap meat and passing it off as something else. Our investigations will find them and they will feel the full force of the law.
"British food prides itself on scrupulous traceability. I will not have that undermined by the selfish, reckless and potentially illegal actions of anyone - whether in this country or abroad."
Published 8 February 2013