Press release
Statement from Environment Secretary Owen Paterson following the announcement from Findus and the Food Standards Agency about beef lasagne products
Following the announcement by the Food Standards Agency that horsemeat has been found in Findus beef lasagna products, Environment Secretary…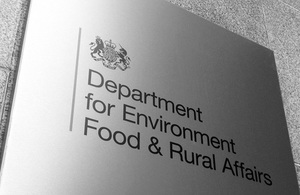 Following the announcement by the Food Standards Agency that horsemeat has been found in Findus beef lasagna products, Environment Secretary Owen Paterson has issued the following statement:
"It is completely unacceptable that a product which says it's beef lasagne turns out to be mainly horsemeat. Consumers have a right to expect that food is exactly what it says on the label.
"The presence of unauthorised ingredients cannot be tolerated. This is especially true when those ingredients are likely to be unacceptable to consumers, or where there is any conceivable risk to human health.
"The responsibility for the safety and authenticity of food lies with those who produce it, and who sell or provide it to the final consumer.  I know that food producers, retailers and caterers are as concerned as we are at the course of recent events.
"The FSA is urgently investigating individual suspicious incidents, which they have taken up with authorities and police across Europe.
"The FSA and Defra are also conducting a survey of processed beef products in the UK - including supplies to schools and hospitals - in order to assess whether there are any significant levels of improperly described meat.
"In addition, the food industry agreed on Monday at their meeting with Food and Farming Minister David Heath and the FSA that they would share the results of their own testing with the FSA and make the results publicly available. David Heath is meeting major food businesses again for a further update on Wednesday 13 February.
"The FSA has today requested that producers and retailers test all their processed beef products by the end of next week for the presence of horsemeat, and for residues of the veterinary medicine 'bute'.
"The Food Standards Agency, Defra, and the Department of Health are working closely with businesses and trade bodies along the whole food chain to root out any illegal activity and enforce food safety and authenticity regulations. Consumers can be confident that we will take whatever action we consider necessary if we discover evidence of criminality or negligence."
Published 7 February 2013