World news story
Statement from British Ambassador to Indonesia on Mount Agung eruption in Bali
British Consulate and UK crisis response team are working in Bali to provide support to British Nationals in response to the Mount Agung eruption.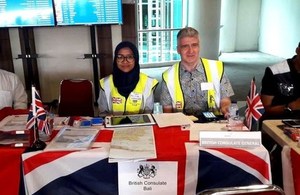 Speaking today in relation to the ongoing eruption of Mount Agung in Bali, British Ambassador to Indonesia, Moazzam Malik said:
An additional UK crisis response team has arrived in Bali today to reinforce staffing at the British Consulate. The British Embassy has been running a crisis operation from Jakarta throughout.

The Indonesian authorities are doing a great job in managing a difficult situation. We are working closely with the central and local government, airport officials and airlines to monitor conditions at travel hubs and to provide support to British Nationals.

Safety of British Nationals is our top priority, You must keep out of the 10km exclusion zone around the volcano and follow the advice of local authorities. There is a risk of ash plumes affecting air quality in tourist areas around Bali. Public Health England advise that everyone in affected areas should use face masks, but that the most effective way to reduce exposure is to stay indoors where possible, particularly for people with pre-existing respiratory conditions.

The British Embassy has a team in the international departures area at Bali's Ngurah Rai Airport to provide advice to British Nationals. If you are due to travel to or from Bali or Lombok, you should confirm your travel arrangements directly with your airline or travel agent before going to the airport and make sure that your airline has your contact details. Affected airports are likely to open and shut at relatively short notice. Remember to keep your family and friends updated about where you are and your travel plans.You should also keep an eye on FCO travel advice and follow the British Embassy on Twitter or Facebook for updates on the situation.
Notes:
Published 29 November 2017