News story
Statement by Secretary of State Owen Paterson MP following Budget announcement
Statement by Secretary of State Owen Paterson MP following the 2010 Budget announcement.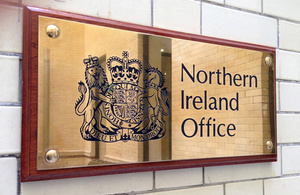 This is an unavoidable budget. As a result of the economic mess we have inherited, the UK government is currently borrowing £300,000 a minute. That's one in every four pounds we spend. It is simply unsustainable to go on like this. Failure to tackle the deficit would lead to disastrous increases in interest and mortgage rates. This would have catastrophic consequences for everybody in Northern Ireland.
That's why the Chancellor has had to take decisive action today. The measures he has announced will ensure that by the end of the Parliament the Government will have eliminated the deficit and will be re-paying debt. We are all paying the bills of past irresponsibility to lay the foundations for our future economic prosperity.
We aim to balance a responsible approach to reducing spending with measures to encourage enterprise and fairness. At all times we will seek to protect the least well off in society.
Businesses across Northern Ireland will benefit from the reductions in corporation tax for the UK as a whole. The Chancellor's introduction of an employer National Insurance holiday for the first ten employees of any new business should assist over 15,000 local firms. Reversing the previous administration's proposed jobs tax will benefit the economy and will also save around £80 million in Northern Ireland. The Enterprise Guarantee Scheme - which has already helped 133 businesses in NI and resulted in £19.7 million of loan offers - will be significantly increased.
In addition the Government has re-affirmed its commitment to rebalancing the Northern Ireland economy to boost the private sector. Working closely with the Northern Ireland Executive we will publish a consultation paper in the autumn. This will look at mechanisms for giving NI a different rate of corporation tax and other economic reform options.
This is a progressive budget. It is only right that those on the highest incomes pay more and we focus support on lower income families. Pensioners across NI will welcome the restoration of the link between pensions and earnings. There will be a triple lock which will guarantee every year a rise in the basic state pension in line with earnings, prices or a 2.5 per cent increase whichever is greater.
Even in these difficult times we have been able to provide extra support for those most in need. That's why there will be an additional £2bn per annum increase in the child element of the child tax credit.
I recognise that some of today's measures will be difficult for all of us in Northern Ireland. Yet every part of the United Kingdom has to play its part in reducing the deficit and ensuring our recovery. Northern Ireland is no exception.
Everyone in Northern Ireland will have views as to how we can make government more efficient. We are genuinely interested in hearing them. We are all in this together.
Published 22 June 2010