Press release
Statement by Ambassador Tim Morris, UK Envoy to South Sudan peace talks
UK Envoy Tim Morris welcomed progress between parties to the conflict in South Sudan, on behalf of Troika Envoys from Norway, the UK and US.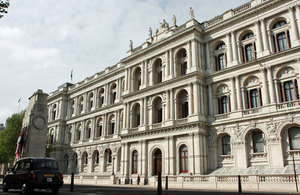 Speaking in Addis Ababa at the signing of a Cessation of Hostilities Agreement on 23 January, Ambassador Tim Morris said:
As the Troika, the group of countries representing the support of the international community for South Sudan, and as the United Kingdom, we welcome the agreement of the Parties on a cessation of hostilities and on the question of detainees.

We pay tribute to the tireless mediation efforts of the Intergovernmental Authority on Development (IGAD) and in particular its Ethiopian Chairmanship and its Kenyan and Sudanese mediators. Our support for them will continue for as long as it is needed.

We also express our appreciation for the leadership of the African Union whose forthcoming Commission of Inquiry will be an essential element in establishing the truth of the last few weeks and in building reconciliation.

The cessation of hostilities is a crucial first step in stopping the widespread suffering of the people of South Sudan. This suffering must stop immediately. We have had multiple reports of human rights violations, killings, and the displacement of over half a million people. There is no place for this unbridled violence in the community of nations.

The humanitarian situation for hundreds of thousands of South Sudanese caught up in the conflict remains dire. Large numbers will continue to need urgent assistance for some time to come. We call on all signatories to this Agreement to uphold their obligations under International Humanitarian Law, and ensure that humanitarian agencies are able to provide assistance without any obstruction or fear for their safety.

It is also vital that, as the monitoring of the cessation of hostilities begins, the parties urgently begin the next steps towards political reconciliation. This must include those currently detained. A process in South Sudan, agreed with the region and supported by the international community, must be negotiated and must begin. It must be inclusive, including of women and civil society, and focus on the needs of the people of South Sudan, and on the building of institutions and the security and prosperity of the country.

We in the Troika and the United Kingdom stand ready to assist the mediators, the parties, and the South Sudanese people in this vital and historic task.
Further information
Read more: Foreign Secretary welcomes signing of ceasefire agreement in South Sudan
Follow the Foreign Office on twitter @foreignoffice
Follow the Foreign Office on facebook and Google+
Published 23 January 2014