State Opening of Parliament
Her Majesty The Queen has today opened a new parliamentary session and set out the Government's legislative agenda in the Queen's Speech.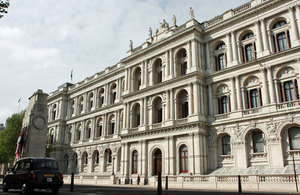 The Queen outlined the Governments priorities over the next 18 months, including for foreign affairs saying:
"My Government will seek effective global collaboration to sustain economic recovery and to combat climate change, including at the climate change conference in Mexico later this year.
"My Government will fully support our courageous armed forces and undertake a full Strategic Defence and Security Review.
"My Government will work with the Afghan government, Pakistan and international partners for lasting security and stability in Afghanistan.
"My Government looks forward to an enhanced partnership with India.
"In the Middle East, my Government will continue to work for a two-state solution that sees a viable Palestinian state existing in peace and security alongside Israel.
"My Government will work to reduce the threat from nuclear weapons and nuclear proliferation including the serious international concerns posed by Iran's nuclear programme."
Introducing a European Union Bill, The Queen added:
"My Government will introduce legislation to ensure that in future this Parliament and the British people have their say on any proposed transfer of powers to the European Union."
The Foreign Secretary William Hague said,
"These measures will substantially improve democratic control, scrutiny and accountability over EU decision making."
On her forthcoming international visits, The Queen said:
"The Duke of Edinburgh and I look forward to our visit to Canada in June and to our visit to the United Nations in New York in July. We also look forward to receiving His Holiness Pope Benedict the Sixteenth in September."
Read the full transcript of The Queen's Speech.
Published 25 May 2010