Start-up loans for young entrepreneurs
An £10 million StartUp Loan scheme is launched, alongside Lord Young's independent report on enterprise.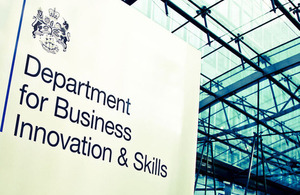 28 May 2012
---
---
Any 18-24 year old will be able to get access to finance, support and training to start a business.
Start-up loans up to £2,500 will be available, with a repayment period of up to five years.
Lord Young, who also published his report on Enterprise, said:
"Many young people already have the drive and ambition to create a business, yet don't know how to put this into action.
"My report will connect them to the support they need and the new StartUp Loan will mean that thousands of young people can now get access to advice and funding.
Find out more how StartUp Loans could help the Business in you
Make business your business
Lord Young's report, Make business your business, shows that if we had the same rates of entrepreneurship as the US the UK would have 900,000 more businesses.
He sets out the strength, diversity and growth of small businesses in recent years, a clear contrast to the Bolton Report of 1971 which predicted small businesses were in long-term decline.
The Government is running the Business in you campaign this year, highlighting the support available from the government and private sector for startups and growing businesses, and demonstrating that is is now easier than ever before to start a business.
Prime Minister David Cameron said:
"I want this to be the year where people can think yes, I can do it, that we can get as many viable businesses as possible off the ground, that people can have a go, and that we see a whole new wave of entrepreneurs who start small but think big.
"StartUp loans are a fantastic opportunity for young people, not only to get the financial support they need, but also to give them the confidence to believe they can do it, that they can turn that spark of an idea into the next global brand.
"I would like to thank Lord Young for his thorough report into the SME sector. His enthusiasm, drive and tenacity to make sure we are doing everything we can to support business and promote enterprise is a credit to us all.
"There can be no better inspiration of the 'can do' spirit that is needed in business than Lord Young; and his report is a must read for anyone thinking of starting up."
Links
Published 28 May 2012