World news story
Standard Chartered collaborates with the British Deputy High Commission to celebrate Pakistani Women
A panel discussion titled "Celebrating Pakistani women: the importance of diversity for business growth" was held at the British Deputy High Commission, Karachi on 20th April 2016.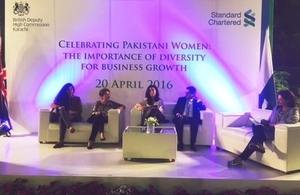 The panellists included: Mr. Shazad Dada, Chief Executive, Standard Chartered Bank Pakistan, Ms. Spenta Kandawala, Board of Director, SCB Pakistan, Ms. Shazia Syed, Chairperson Unilever Pakistan and Ms. Hajra Khan, Captain of the Pakistan's Women Football Team. The participants engaged in a discussion which highlighted contribution of women and to recognise challenges women face around the world.
Commenting on the discussion, Mr. Shazad Dada, Chief Executive, Standard Chartered Pakistan said:
At Standard Chartered, we strive to be a market leader in the Diversity & Inclusion space by helping women realise their full potential through personal development and supportive workplace practices.

In Pakistan I am proud that 25 percent of our workforce are women and growing. We not only value the contribution of our female workforce, but remain committed to be 'Here for good' in the communities where we operate, supporting and furthering the role of women in Pakistan.
The British Deputy High Commissioner, John Tucknott MBE said:
Promoting the rights of women are at the centre of the UK Government's human rights work. By supporting projects that tackle violence against women, work to ensure equal representation of women in political and public life, and challenge discriminatory laws and practices, we make a difference for women and girls globally.

In his Women's Day message earlier this month, the UK Foreign Secretary stressed the crucial role played by women in resolving conflict and rebuilding societies. He also said on his recent visit to Islamabad that it was a privilege to meet Oscar winning filmmaker Sharmeen Obaid Chinoy, who has challenged taboos on so-called honour killings in Pakistan.
Standard Chartered as a bank aspires to be a leader in gender diversity, supporting women in the workplace, as customers and in the community, Standard Chartered remains committed to be 'Here for good' in the markets where it operates, and is determined to make a difference not only to help women fulfil their potential as leaders in the Bank, but to also play a critical role with its customers and communities in supporting and furthering the role of women in every society, including Pakistan.
The forum discussed various organisational models for workplace enhancement to construct alternate promotional systems for women; career tracks that will complement work-life balance, mentoring and general development.
Contact

Press Department

British Deputy High Commission

Karachi

Tel. 021-3-5827000


Published 22 April 2016