News story
Staffordshire's potters show off their business mettle to Vince Cable
The tour comes in the same week that the Business Secretary set out his Industrial Strategy to make the most of the UK's competitive advantage…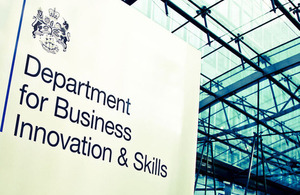 The tour comes in the same week that the Business Secretary set out his Industrial Strategy to make the most of the UK's competitive advantage and how it can build its skills for the future.
The Business Secretary was visiting Ceram, Stoke-on-Trent, to see the positive impact of being awarded a conditional offer of £1.9 million from the Government's Regional Growth Fund (RGF). Ceram is an international materials technology company that provides ceramics, metal and polymers expertise to healthcare, ceramics and construction applications.
As well as creating 25 direct jobs at the firm and up to 7,500 jobs in the wider supply chain, the award is part of a wider £5 million project to carry out industrial research into improved ceramic firing methodology.
Speaking at Ceram, Business Secretary Vince Cable said:
"The RGF is performing a positive role in supporting business and funding important research as in the case of Ceram. Their £1.9 million award will create 25 direct jobs at the firm and up to 7,500 in the wider supply chain - a fantastic boost to the local economy.
"It was a pleasure to meet staff and see firsthand how their engineers and expertise are enhancing the competitiveness of the British healthcare, ceramics and construction industries. I am confident that, once built, their new facilities will have an important knock-on effect in the wider supply chain and help them and others stay one step ahead in the market."
Tony Kinsella, Chief Executive of Ceram, said:
"If we're going to be successful at rebalancing the economy, industry has to embrace innovation. It's a global market place and manufacturers have to develop products, processes and technologies that are smarter and more sustainable and that deliver real value right the way along the supply chain.
"The RGF funding we secured is focussed on innovation and Vince Cable's visit to Ceram shows the Government is aware of this, which we welcome. I strongly believe that growth is the responsibility of Industry. We need to take the initiative, but we need schemes like the RGF to provide a platform and a springboard."
The investment will help Ceram to build an experimental kiln to determine ways in which ceramics manufacturers can cut their energy consumption and help them compete on a global scale. It will help manufacturers such as Portmeirion Group - Stoke-on-Trent's renowned ceramics manufacturer, where Dr. Cable also toured the factory in the morning. The Business Secretary met the workforce including two apprentices, after which he met with the directors of the company to discuss issues affecting the industry.
Earlier in the day, the Business Secretary visited KMF (Precision Sheet Metal) in Newcastle-under-Lyme, the UK's largest sub contract manufacturer of sheet metal components. KMF supply a wide range of industries including aerospace, medical, renewable energy and telecommunications.
Dr Cable was given a tour of KMF's manufacturing facilities by one of their current apprentices Sam Dutton, who joined KMF's apprenticeship scheme at the age of 16. The tour included their extensive training centre and well regarded apprenticeships programme which has recently trebled its intake of apprentices, employing 22 apprentices across engineering, fabrication and welding.
Business Secretary Vince Cable said:
"KMF (Precision Sheet Metal) supply a diverse range of industries and are an important link in the supply chain. Their commitment to skills provision, apprenticeships and in-house training sets a very high standard and being given a tour by a current apprentice who will be the next generation of engineers added to the visit.
"The Government needs to have a close, long-term and strategic partnership with industry if we are to maintain our advantage in advanced manufacturing. Our industrial strategy will aim to help companies like KMF so that we can support business with the right focus on skills, investment and growth for the future."
Gareth Higgins Managing Director KMF (Precision Sheet Metal):
"The comments that Dr Cable made about investment in training is encouraging and is one that KMF welcomes. As an investor in people and manufacturing technology we are committed to maintaining and growing a strong engineering manufacturing business here in Staffordshire. This can only be achieved by developing the next generation of skilled people."
The final stop on the tour was a visit to Zytek Automotive - a company that specialises in the design, development and supply of components for hybrid and electric vehicles for automotive manufacturers.
Zytek are another successful RGF recipient and were recently awarded £1.3 million investment in new facilities and training as well as R&D to support new products for hybrid and electric vehicles.
Business Secretary Vince Cable said:
"My visit to Zytek shows the role that Government and the private sector can play in helping manufacturing and local enterprise through RGF - their £1.3 million award will create over 40 jobs at the firm and safeguard a similar number. Zytek's workforce will benefit from increased investment in training and R&D so that they can continue to supply some of the world's best car makers.
"When you visit firms receiving RGF money, such as Zytek, you get a strong sense of the boost it is creating in the local economy. And you mustn't forget that the RGF is across a range of industries, programmes and locations which when put together build a really strong picture of how this Government is kick-starting the economy."
Kerry Diamond, Chief Financial Officer of Zytek Automotive Ltd said:
"The RGF funding has made a real difference to us at Zytek and alongside our own planned investment has enabled us to develop a number of new and exciting products for this emerging and highly competitive market. Training is very important to us and RGF has meant that we have been able to move closer towards closing the skills gap.
"We have already created 12 new jobs and are working closely with a number of Universities with the aim that around a third of the created jobs will be for recent graduates.
"The support by BIS for our business has been very helpful and as a result we have been successful in securing a number of new contracts. RGF assistance helps in a small way to allow UK based companies to compete on a level basis with overseas competition in growing markets."
**Notes to editors:
**1. The Regional Growth Fund (RGF) is a £2.4bn fund operating across England from 2011 to 2015. It supports projects and programmes that lever private sector investment to create economic growth and sustainable employment.
](http://www.ceram.com/)6. http://www.ceram.com/6. For more information about Zytek Automotive Ltd please contact Karen Brittan (Marketing Manager) on 07932 691 302 or enquiries@zytek.co.uk or visit http://www.zytekautomotive.co.uk/
The Business Secretary outlined the Government's Industrial Strategy, which builds on the Plan for Growth and progresses work already underway with some business sectors, in a speech to Imperial College, London. More information is available from www.bis.gov.uk/newsroom

The Government's economic policy objective is to achieve 'strong, sustainable and balanced growth that is more evenly shared across the country and between industries.' It set four ambitions in the 'Plan for Growth' (PDF 1.7MB), published at Budget 2011:
To create the most competitive tax system in the G20

To make the UK the best place in Europe to start, finance and grow a business

To encourage investment and exports as a route to a more balanced economy

To create a more educated workforce that is the most flexible in Europe.
Work is underway across Government to achieve these ambitions, including progress on more than 250 measures as part of the Growth Review. Developing an Industrial Strategy gives new impetus to this work by providing businesses, investors and the public with more clarity about the long-term direction in which the Government wants the economy to travel.
BIS's online newsroom contains the latest press notices, speeches, as well as video and images for download. It also features an up to date list of BIS press office contacts. See [http://www.bis.gov.uk/newsroom](http://www.bis.gov.uk/newsroom) for more information.
Notes to Editors
Contact Information
Name BIS Press Office Job Title
Division Department for Business, Innovation & Skills Phone
Fax
Mobile
Email bispress.releases@bis.gsi.gov.uk
Name Ed Smith Job Title
Division Department for Business, Innovation and Skills Phone 020 7215 5945 Fax
Mobile
Email ed.smith@bis.gsi.gov.uk
Published 13 September 2012