News story
Staff recognised in New Year Honours List
People from the Home Office and its agencies have been recognised for making a difference, in the 2011 New Year Honours List.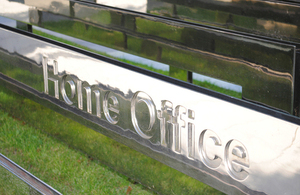 The list, which was published today, rewards ten exceptional members of staff from the Home Office, Identity and Passport Service and UK Border Agency for outstanding achievement and service.
Honours have been awarded for a range of services including contributions through charity and community work and extraordinary dedication to public service.
Honours
Those who have been honoured with an MBE for making a real impact in their community or during service include:
Glennis Bentley, executive officer, asylum and appeals Midlands and East region, for voluntary service to young people in Peterborough. With another mother, she founded the Phoenix Youth Project, which has for years given young people a safe place to socialise and taught them vital life skills. She is a real community champion as well as a champion of equal opportunities in the work place
Margaret Bissett, executive officer, immigration group casework, for services to health charities. She has raised huge funds for the Prince and Princess of Wales Hospice and the Beatson Oncology Centre
Carol Armstrong, higher officer, Border Control Belfast, for her energy and commitment to getting the UK Border Agency good haulage, storage and disposal contracts for seized goods which has saved the public purse millions of pounds. She also runs a weekly Sunday school in her community
Charlotte Fielder, higher officer, Heathrow Detection, Border Force. By day, she has been an exceptional member of staff, leading teams that have had excellent success in Class A drug seizures and intercepting airport crime. Her passion has been in the support of the charity Reach, which supports children and the parents of children who have been born with missing limbs or upper limb deficiencies. Her book 'Shared Experiences' gives hope and confidence to new parents faced with the extra parenting challenges ahead of them – and all the proceeds go to Reach
Elwyn Soutter, lately Her Majesty's Inspector, UK Border Agency. Now retired, he has been credited as being the lead on immigration enforcement capability in Northern Ireland, and has also made a huge contribution to the fight against drug crime there, setting up a working agreement with the Northern Ireland Police Service
Robert Wilson, lately regional manager, Glasgow, Identity and Passport Service. Now retired, he was a manager with fierce pride in his Glasgow Office (and its unceasingly successful football team), who has volunteered his office for all manners of initiatives and has personally seen that all his staff have had the support to be the best they can be
The following individuals have received OBE, CBE, CB and GCB honours in the 2011 list:
John Francis Lynch, head of Heathrow Passenger Services, is now an Officer of the Order of the British Empire (OBE), having dedicated 40 years of his life to protecting government revenue in a variety of energetic and innovative ways in both Customs and Excise and the UK Border Agency, including one project that thwarted would-be tax evaders to the tune of £500m.
Ravi Chand, head of human resources' strategic diversity action team and race advisor to the Permanent and Home Secretary, has become a Commander of the Order of the British Empire (CBE). His commitment to celebrating diversity and enhancing the contributions that people of all walks of life can bring has led to the Home Office to reach the Gold Standard against a number of external diversity benchmarks set by groups such as Stonewall
Yasmin Diamond, director of communications, is now a Companion of the Order of the Bath, holding a CB. The honour recognises her ability to recognise what members of the public care about, and how to get across the Home Office messages in a way that resonates with them, using the full breadth of contemporary media at her disposal
David Normington, has become a Knight Grand Cross of the Order of the Bath (GCB). Now retired, as Permanent Secretary he presided over a recovered Home Office following John Reid's statement that it was 'not fit for purpose' and led staff through the machinery of government change that followed it
View the full honours list on Directgov.
Published 31 December 2010