World news story
St. Davids Day: Declaración Ministro Principal de Gales
Un mensaje de Carwyn Jones, Ministro Principal de Gales, en la celebración del Día de San David de 2015.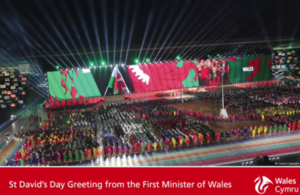 St David's Day Greeting from the First Minister of Wales
'Dymuniadau gorau o Gymru i'n ffrindiau ar draws y Byd ar ddiwrnod ein nawdd sant Dewi.'
Con motivo del día de San David, me complace poder enviar nuestros más afectuosos deseos a todos nuestros amigos en todo el mundo.
Para Gales, éste ha sido un año repleto de acontecimientos. El pasado mes de septiembre, la cumbre de la OTAN se celebró en Newport, convirtiéndonos en testigos de la mayor reunión de jefes de gobierno que jamás se haya celebrado en suelo británico.
En el terreno deportivo, el equipo de Gales consiguió un récord con un total de 36 medallas en los Juegos de la Commonwealth, mientras que Cardiff acogía la final de la Supercopa de la UEFA. Cuando se trata de organizar eventos deportivos de primera línea, Gales se ha ganado una gran reputación como un país en el que se puede confiar.
Este año celebramos el 150 aniversario del desembarco del Mimosa en la Patagonia. La Patagonia es uno de los muchos lugares del mundo donde las comunidades galesas han prosperado y la identidad del País de Gales continúa viva.
En Gales estamos orgullosos de ser un país abierto al mundo. El número de turistas extranjeros que visitaron Gales creció 14 % durante los primeros nueve meses del año pasado, mientras que, por otro lado, las cifras relativas a la inversión extranjera han sido las mejores del último cuarto de siglo. Hoy más que nunca, espero que, durante los próximos años podamos trabajar juntos más allá de nuestras fronteras.
Esté en la parte del mundo que esté, disfrute de nuestra fiesta patronal de San David.
'Dydd Gwyl Dewi hapus i chi gyd!'
Published 1 March 2015