World news story
St Andrew's Day Blog
St Andrew's Day Blog by Sarah Gillett Ambassador to Norway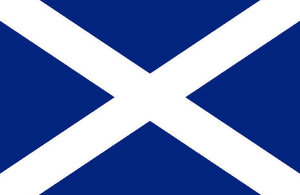 St Andrew has been the Patron Saint of Scotland for centuries – officially since 1320, and unofficially probably for a good millennium. His feast day, 30 November, continues to be celebrated by all with Scotland in their hearts. My mother, a proud Scot, looked forward to St Andrew's Night parties as especially important celebratory occasions – featuring plenty of tartan, Scottish dancing, and drams of whisky. From the vantage point of my present job, I am also able to appreciate the depth and breadth of the links between Norway and Scotland.
There is rich Viking heritage in Scotland, particularly in the Northern Isles. Over the centuries, islands featured in a few disputes between Norway and Scotland, and sovereignty over the Hebrides, Orkneys and Shetland Islands changed hands. In the 13th century Margaret, daughter of King Alexander III of Scotland, married the Norwegian King Eric II, and came to live in Norway. She died in childbirth in Tønsberg, and her daughter Margaret became Queen of the Scots in 1286 at the age of 2 on the death of her grandfather. When she was 7 she travelled to Scotland, but sadly died of sea sickness on the journey.
In present times travel is much easier, there are no disputes over islands, and our Royal Families have shared ancestry. Links have strengthened on all fronts. The British Embassy in Oslo is particularly aware of how experiences in the North Sea have thickened the friendships and common interests between communities such as Stavanger and Aberdeen. The offshore industry has stimulated prosperity and innovation. I have enjoyed seeing what Norwegian companies are doing in Scotland, and how Scots are succeeding in Norway. With all the challenges facing the oil and gas industry, it was heartening to encounter a great spirit of collaboration at Offshore Europe in Aberdeen this September. The decision by Statoil to install the world's first offshore wind farm, Hywind, off the Scottish coast was an innovation high point. And shortly after St Andrews's Day the Embassy will be hosting the signing ceremony for the latest agreement between a Scottish company and a Norwegian partner. Heritage, friendship and innovation are three great reasons to celebrate.
Toilichte là a'naomh Anndra agad!
Published 30 November 2015