World news story
Sri Lankan CRISP Fellows Depart for the UK
Gayani Abeysinghe and Balathasan Sayanthan departed for the UK, having been awarded the CRISP Fellowship for 2016.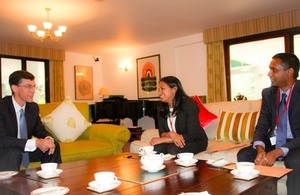 Gayani Abeysinghe from MAS Innovation (Private) Limited and Balathasan Sayanthan from hSenid Mobile Solutions departed for the UK last week, having been awarded the Chevening Rolls Royce Science and Innovation Leadership Fellowship (CRISP) for 2016. CRISP is a Chevening Fellowship programme funded by the Foreign and Commonwealth Office (FCO) and Rolls-Royce, which provides funding for a twelve week tailor-made course at the Saïd Business School (SBS), Oxford University. The programme is aimed specifically at mid-career professionals working in the fields of science, innovation, business and related public administration. In 2015, the CRISP Fellowship was extended to cover Sri Lankan applicants as part of the UK's commitment to deepening ties with Sri Lanka. The programme now brings together 14 Fellows from India and Sri Lanka, allowing them to share their varied experiences as they immerse themselves in classroom learning and field visits to a wide range of institutions both in the UK and Europe.
Scholars have the opportunity to develop an understanding of UK science and innovation management processes, explore the interactions between research, innovation, and economic development, as well as research and present a business plan based on individual interests and experience.
British High Commissioner to Sri Lanka, H.E. James Dauris, met with the departing scholars to hear about their career plans and how they hope to contribute towards business innovation in Sri Lanka.
"The UK is a global leader in science, innovation and business. By providing opportunities for some of the brightest Sri Lankan professionals to attend programmes such as CRISP we create lasting partnerships and promote cross-border innovation in important fields that will benefit both Sri Lanka and the UK," H.E. James Dauris said.
"I am honoured to have been selected as a Chevening fellow and believe CRISP will allow me to gain a deeper understanding of the UK and its science and innovation networks. I am also looking forward to bringing my experience to the programme and to bring what I learn back to my work and Sri Lanka," Gayani Abeysinghe said.
"I am extremely delighted to have been selected for the prestigious CRISP Fellowship 2016. I look forward to the exciting opportunity to learn and develop an executable business plan while establishing a strong network with the illustrious faculty, fellow participants and others whose paths I will cross," Balathasan Sayanthan said. To hear from last year's CRISP Fellows read Deputy High Commissioner Laura Davies's blog