World news story
Spotlight on transparency of Parliament in North Macedonia
British Embassy supports assistance to Parliament of North Macedonia to increase transparency and inclusion in its work.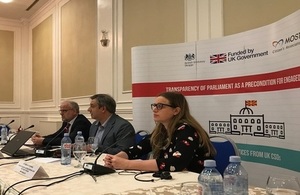 The importance of transparency of parliament as a prerequisite for engaged citizens was the key theme of the debate in Skopje today organised by the civil society organisation Most, which oversees parliament's work. The event brought together MPs, parliamentary staff, representatives of institutions, civil society and the international community. Our Ambassador Rachel Galloway spoke at the official opening along with the Speaker of the Parliament of North Macedonia Talat Xhaferi. She said:
Today is a great opportunity to gather together the Speaker, MPs, parliamentary staff, who together with civil society can review the work that Parliament is doing, to reflect on what went well in transparency and accountability, and what can be improved. Parliament is a mirror of society. Its diversity reflects the diversity in the society, the battle of political ideas. As we see in the current debates in UK Parliament. Parliament carries the responsibility for the political dialogue in the country, for the quality of the legislation and sets the standards of the political culture.
United Kingdom's assistance in North Macedonia is focused on the reform agenda and strengthening institutions. Our programmes range from reforms in public administration and judiciary, efficiency of Parliament, transparency and accountability of institutions, inclusion and diversity, strengthening civil society and media. You can find more information about our programme work here.
Connect with us on Facebook
Connect with us on @UKinRNMacedonia
Follow our Ambassador's work on Twitter @RGallowayUK
Read our blogs on UK and North Macedonia.
Published 26 March 2019