News story
Sports pitch for returning Scots fusiliers
A piece of derelict land has been turned into a new football pitch for Scottish soldiers ahead of their return from Afghanistan.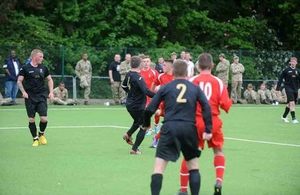 Working with industry partner Turner Estate Solutions (TES), the Defence Infrastructure Organisation (DIO) has transformed a delivered the all-weather sports area for The Royal Highland Fusiliers, 2nd Battalion The Royal Regiment of Scotland (2 SCOTS).
The facility has been completed in time for soldiers in the infantry battalion to enjoy upon their return to their base at Glencorse Barracks, Penicuik, from operations in Afghanistan in September.
Major Davey Harvey, Quartermaster 2 SCOTS, said:
Our priority was to get a second sports pitch as quickly as possible and we now have a second-to-none all-singing-and-dancing football pitch. When the soldiers arrive back from Afghanistan they will be extremely delighted.

This facility will be greatly appreciated and heavily used by our officers, soldiers and their families for years to come. DIO and Turners are to be congratulated for this project work and delivering on time a magnificent all-year-round football pitch.
The completed pitch will now be named 'Fusilier Field'. It has been built on land which has belonged to the MOD for over 100 years. It was an area where originally there had been various buildings, which had been demolished over the years.
John Rennie, DIO Deputy Head Service Delivery North Scotland and Northern Ireland, said:
DIO's priority is to support our Armed Forces by providing the facilities they need to live, work and train as they prepare for operations. This project demonstrates what can be achieved by listening to our customer to deliver a much-needed requirement – in this case, a state-of-the-art artificial football pitch.
Stuart Ross, Deputy General Manager Turner Estate Solutions, said:
The new pitch is a testament to DIO and TES's commitment to support our Armed Forces and their families. I'm sure it will become an extremely important asset for 2 SCOTS; their families and the community for a considerable time.
Published 22 July 2013