News story
Sports Minister visits Yorkshire for Grand Départ update
Preparations in Yorkshire are progressing well for the start of the 2014 Tour de France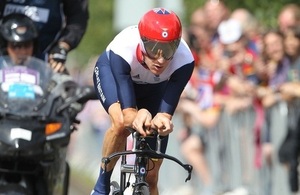 Hugh Robertson, Minister for Sport and Tourism, visited Yorkshire today to hear how plans for the Grand Départ are progressing and meet key staff organising the start of the world's most famous cycle race, Le Tour de France.
On his visit, Hugh Robertson, said:
The Tour de France is the most famous cycle race in the world and with Yorkshire hosting the Grand Départ next year it is a fantastic opportunity for the county to sell itself to an international audience as a great tourist destination. All the key partners are working hard to make sure we deliver a world class event, encourage even greater participation in cycling and give a boost to businesses across the region.
During his visit, Mr Robertson met members of the TDF 2014 Ltd board board, staff from Welcome to Yorkshire and others involved in delivering the event, including representatives from local authorities and the police. The Minister was later joined for a photo outside Leeds Town Hall by members of Ilkley Cycle Club – one of the UK's biggest cycling clubs with over 1,000 members who regularly ride across parts of the Yorkshire Dales which will make up the Grand Départ route in 2014.
First for Yorkshire
Welcome to Yorkshire's Chief Executive Gary Verity, shared his excitement:
In just over 9 months' time the world's leading cyclists will be lining up in Leeds for the start of what will undoubtedly be one of the proudest moments in Yorkshire's sporting history. We expect millions of people to be lining the roadside creating an atmosphere not seen before in the UK. Yorkshire is proud to be playing such a pivotal part in this global sporting event, the county will be ready to welcome the world and to host an unforgettable Grand Départ.
This will be the first time the Tour de France has visited the north of England having previously only made visits to the south coast and the capital. The opening 2 stages of the 2014 Tour de France 2014 will be held in Yorkshire on 5 and 6 July. The third stage – on the 7 July – will begin in Cambridge and finish in London.
Cycling is on a high in Britain with take-up of the sport on the rise. Recent successes – including Sir Bradley Wiggins win at the Tour of Britain last weekend and Chris Froome being crowned the Tour de France champion for 2013, following Wiggins becoming the first Briton to win Le Tour the year before – have all helped grow the sport's popularity across the UK.
Published 24 September 2013