Sport Relief: UK backs public support for African slum help
Support from the government will help to improve the lives of a million people living in African slums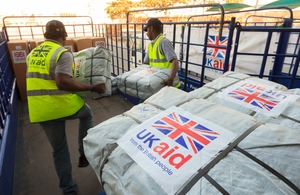 Britain will help improve the lives of a million people living in African slums, after the Coalition Government backed public support of Sport Relief.
The UK Government will match £10 million of public donations to Sport Relief's appeal. The announcement was made during its TV fundraiser this evening.
The money will help to bring people in slums clean water, toilets and basic health care as well as make sure kids get a better education.
It will also create jobs - especially for women - and help slum dwellers get better housing.
Every day across Africa, thousands of people desperate to escape poverty in rural areas move to the city hoping to find a job, but without the means to pay city rents. Most are forced to live in already overcrowded slums without access to even basic services.
International Development Secretary Andrew Mitchell said:
"Once again, the British public has shown both its generosity in tough economic times and its overwhelming support for Sport Relief's life-changing work. It's clear just how highly the public rates Sport Relief's vital work in transforming lives at home and abroad. We're looking to reflect that spirit by matching pound for pound £10 million of the money donated to help the charity double its effectiveness in African slums.
"The urban slums that Sport Relief is targeting are home to some of the largest groups of the poorest people in the whole of Africa. These people have tried to escape rural poverty, chasing the hope of a brighter future in the cities. Instead, they find themselves trapped in often horrifying conditions, without clean water, proper sanitation or basic health care and crammed alongside hundreds of thousands of others facing the same desperate plight.
"The generosity of public donations, combined with our matched funding, will mean that at least one million people trapped in makeshift tin shacks and lean-tos will get the support they need to change their lives. This means legal support and help learning new skills to find jobs or set up businesses so that they can pay rent or build their own houses, providing a permanent roof over their families' heads. It also means access to the services they're entitled to, including clean water, sanitation and health care as well as education for their children to help ensure a brighter future."
The support comes as part of the Government's UK Aid Match scheme - an initiative to match money donated by the public to charity projects in developing countries, thereby giving the public a say in how part of the aid budget is spent.
Sport Relief is a fundraising campaign that encourages British people to get active while they raise cash to change lives in the UK and the world's poorest countries.
Published 23 March 2012