World news story
Sport is GREAT Britain
British Ambassador to Ecuador donates rugby balls to the Ecuadorean Rugby Federation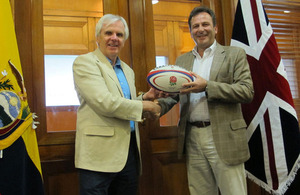 The British Ambassador to Ecuador, Patrick Mullee, donated 20 rugby balls to the Ecuadorean Rugby Federation. The balls were received by Pierre Magnas, President of the Federation. The donation took place in Guayaquil and was also attended by representatives of Guayaquil rugby teams. In return, Pierre Magnas donated an official Ecuadorean rugby shirt to the Ambassador.
The rugby balls, which cannot be purchased in Ecuador, were provided by the Rugby Football Union in England. Rugby is one of the most popular sports in the United Kingdom. In Ecuador, it is a growing discipline, with various regional clubs and players.
Get the latest news in our Twitter or Facebook accounts.
Published 9 September 2013